Estimated read time: 2-3 minutes
This archived news story is available only for your personal, non-commercial use. Information in the story may be outdated or superseded by additional information. Reading or replaying the story in its archived form does not constitute a republication of the story.
Jed Boal ReportingSeveral groups rallied at the courthouse in Salt Lake today to protest the murder charge against a woman in the death of her stillborn son.
The in-court action was minimal. The District Attorney's office dropped a related child endangerment charge against Rowland. Outside the courtroom was a one-sided war of words.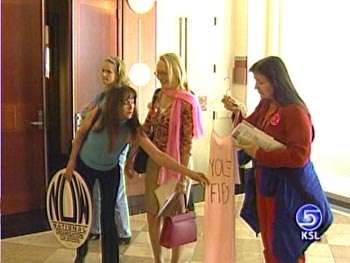 A handful of members of The National Organization for Women, a woman's support group called Code Pink, and the National Alliance for the Mentally Ill showed up and spoke up for Melissa Rowland.
Susan Vogel, Code Pink: "She delayed in getting a C-section. Women can take time to make important decisions like that. She's being prosecuted for murder, we find that outrageous."
She's charged with murder for refusing to get a C-section to save unborn twins, even though doctors warned her the babies might die. Prosecutors say the twin that survived had severe breathing problems from cocaine and alcohol exposure, but the district attorney dropped child endangerment charge and will use that evidence in the murder case.
The protestors don't know Rowland, but oppose the murder charge and tried to give pink slips to the prosecutors. The prosecutor declined and stepped away from any debate.
Kent Morgan, Asst. District Attorney: "Our interest in this case is to speak for the deceased child and not embroil ourselves in political arguments."
Rowland reportedly has a history of mental illness and NAMI Utah wants her to get the care she may need.
Kerri Terry, NAMI Utah: "She does not need punishment. She needs help, someone to empower her, treat her like a human being."
The District Attorney's office points out that the defense is obliged to determine whether Rowland is competent to face the charge. The prosecutor is still looking into allegations that Rowland tried to trade a baby to a California couple in exchange for her bail.
×
Most recent Utah stories