Estimated read time: 2-3 minutes
This archived news story is available only for your personal, non-commercial use. Information in the story may be outdated or superseded by additional information. Reading or replaying the story in its archived form does not constitute a republication of the story.
John Hollenhorst ReportingThere's a new twist in the mysterious deaths of nearly 300 elk in Wyoming. Investigators are now leaning against the pollution or poison theory and they're using captive elk to test a new suspect.
The latest suspect is an unglamorous form of vegetation that's always around us in the West; but it may have turned into a threat to wildlife because of drought.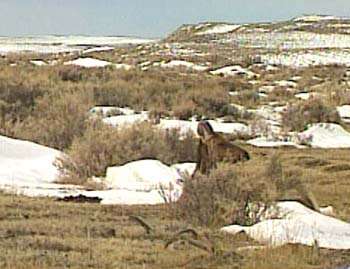 It's been a baffling puzzle to biologists, unlike any incident ever reported in the West. Over the last month or so 295 elk have been found dead or dying. They're concentrated in a relatively small area southwest of Rawlins.
Investigators have all but ruled out the usual suspects: diseases, parasites, industrial pollution. Now they're taking a serious look at a form of vegetation called Parmelia molliuscula, ground lichens--a combination of fungi and algae.
Fifty years ago there were reports of sheep and cows dying after eating the lichens.
Tom Reed, Wyoming Fish & Game: "It causes some kind of muscular weakness where the animal can't get to their feet. But we don't know if that's going to affect the elk or if elk are resistant to the acid in the lichen."
To test the theory they've started using elk near Laramie as guinea pigs.
Tom Reed: "We're feeding this ground lichen to some captive elk, three captive elk, feeding approximately four to five pounds a day for a five-day course."
The lichens are always around, so why would they suddenly become a threat? Investigators suspect elk normally turn up their noses at lichens. But lately they've been desperate for food.
Tom Reed: "We're probably in about the fifth or sixth year of a pretty serious drought in central Wyoming."
At this point the lichens are a leading suspect simply because they've been found in the stomachs of dead elk. But it's still just a theory, and no one knows if the mystery will ever be solved.
×
Most recent Utah stories