Estimated read time: 2-3 minutes
This archived news story is available only for your personal, non-commercial use. Information in the story may be outdated or superseded by additional information. Reading or replaying the story in its archived form does not constitute a republication of the story.
Jill Atwood ReportingChuck Wing: "I remember looking down and seeing that I'm pinned but I can't feel anything, it all happened so fast."
A Deseret Morning news employee talks about the day that changed his life forever. Chuck Wing lost his leg, but not his zest for life.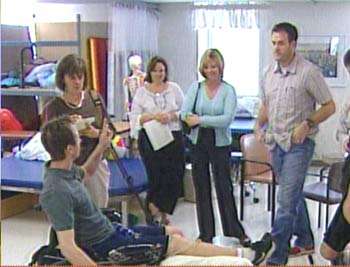 Wing and Gary McKeller went home from the hospital on Friday, but it will still be their second home for a while with pending surgeries and rehabilitation in the coming months. They're anxious to recover and looking forward to the future. Gary says he won't settle for anything but a full recovery, and Chuck is already looking into a prosthetic limb.
Chuck Wing calls his physical therapy a good pain. He knows each grimace brings him closer to getting back on his mountain bike.
Chuck: "I've got a lot of quadricep. I got a lot of hip flexor and muscles in there that I can really use to power myself."
On the other side of the room Gary McKellar and his wife talk with a nurse. His leg wound still has more healing to do before he can start physical therapy.
Gary McKellar, Accident Victim: "It's kind of overwhelming when you think about the whole amount of work that needs to be done and all the things that need to happen and how long it's going to take."
But according to doctors, their progress is amazing considering just four weeks ago both were pinned against a wall by a runaway Jeep Grand Cherokee.
Chuck: "I look over at Gary and he's got a horrified look on his face, and I don't even realize I guess at that point that I'm pinned. I just see Gary and the look on his face and I think what's going on? This can't be real."
Pain, shock, adrenaline, and finally surgery for both; the next month would be the most challenging of their lives. But today the laughs are back; no going back, only forward.
As for the investigation into the accident there is still no word on why that Jeep accelerated inexplicably. Police are still looking into it.
×
Most recent Utah stories