Estimated read time: 1-2 minutes
This archived news story is available only for your personal, non-commercial use. Information in the story may be outdated or superseded by additional information. Reading or replaying the story in its archived form does not constitute a republication of the story.
Richard Piatt reporting A California atheist says it has no place in school.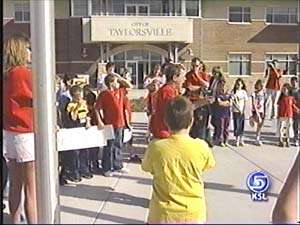 Michael Newdow told the Supreme Court today the words "under God" in the Pledge of Allegiance are unconstitutional -- and offend people who don't believe in God.
But in Utah, there are different feelings about the words 'under God' in the plege.
In fact there are strong feelings about the pledge, and about the words 'under God' in the pledge.
The Legisalture passed a law a couple years ago to require the pledge in schools.
Here in Utah students from the Children's Christian school gathered in Taylorsville to affirm the words 'under God' in the pledge.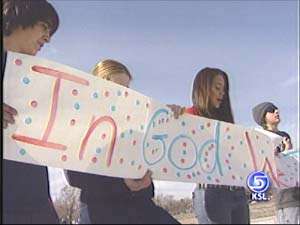 Even as the group sang songs, prayed and, said the pledge, the Surpeme court was hearing arguments about whether those specific words cross the lines between church and state.
To the folks here, the two are, in fact, inseparable.
Kent Turpin, Minister, Valley Christian Church: "We need to pick up the tug of war rope, and pull back. We may not win. It doesn't matter if we win. What matters is that we speak and talk and get people the information they need to make an informed decision."
But there are people who have concerns about requiring kids to say the pledge in school, in effect forcing them to say the words 'under God'.
Atheists, in particular, have a problem with people assuming everyone even believes in God.
'Under God' was added to the pledge in 1954, in the height of the Cold War era.
Today there are many people who believe it's important the words stay in, even though some argue we are a nation 'under guard' as much as a nation 'under God.'
×
Most recent Utah stories