Estimated read time: 2-3 minutes
This archived news story is available only for your personal, non-commercial use. Information in the story may be outdated or superseded by additional information. Reading or replaying the story in its archived form does not constitute a republication of the story.
John Hollenhorst ReportingIn a small town in Texas today worried citizens thronged the sheriff's office. They're concerned, some say they're afraid, that polygamists from Utah and Arizona are headed their way.
As we reported yesterday, aerial photos near Eldorado, Texas, reveal a construction project apparently linked to the Warren Jeffs' group in Hilldale, Utah and Colorado City, Arizona.
Many Eldorado residents didn't know until last night that the project is underway. And now many are very worried about the Utah brand of religion they don't understand.
The land was well chosen if the idea was to avoid prying eyes. A locked gate and a road is all you can see from neighboring property. But pilots have been watching construction for about two months. They can see three residential buildings, so far.
Four miles away, residents of Eldorado see it as something to fear.
Patsy Kellogg, Eldorado Resident: "The unknown. We don't know what it is. And they haven't let us know what it is, and that's kind of frightening."
More than a hundred residents gathered at the sheriff's office, many with worried looks, one with a sign saying, 'The Devil is Here.' They want to know more about the secretive polygamist group that seems to be behind the construction project.
Floral Jessop: "I don't car what religion you are, it does not give you the right to rape children."
Anti-polygamist crusader Floral Jessop triggered the uproar. She said she has found several clues suggesting the project is linked to the Colorado City group headed by the controversial prophet Warren Jeffs.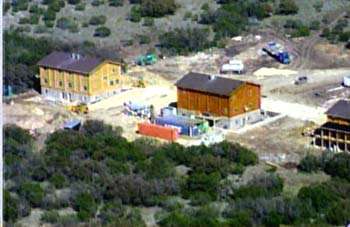 The sheriff said he has established several ties to Utah, although not necessarily to the polygamy group.
Eldorado Sheriff: "As we stand now, there is no illegal activity going on out there."
People in Texas know very little about Utah's unusual history with polygamy, but they certainly remember a piece of their own history – a place called Waco.
Resident: "We've read about cults before and this sounds like it's a cult. And no, not in Eldorado."
But even the anti-polygamy crusader emphasized that Jeff's group has no known record of violence. The sheriff says his sources describe the group as hard-working, good, honest people. Still this news has hit here like an unwelcome thunderbolt.
×
Most recent Utah stories