Estimated read time: 1-2 minutes
This archived news story is available only for your personal, non-commercial use. Information in the story may be outdated or superseded by additional information. Reading or replaying the story in its archived form does not constitute a republication of the story.
Sam Penrod reportingIf you frequently drive in Utah County and are tired of drivers cutting you off, swerving in and out of traffic, or just speeding--we have good news for you.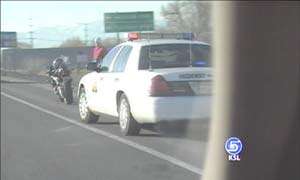 It was a special enforcement blitz this morning-- troopers out there just to nab aggressive drivers. Troopers stopped 138 cars, 116 people were given tickets for speeding, all in just four hours, including a man on a motorcycle clocked at 115 miles per hour! But beyond writing tickets, troopers want to send a message--aggressive driving is very dangerous.
Trooper Tracy Jorgensen: "We have no problem catching people going 80 all the time."
A federal grant helps to pay for enforcement blitzes like this. Troopers hope it helps people understand they need to take driving seriously--getting a ticket is far better than getting into a serious accident.
Sgt. Hoby Metz , Utah Highway Patrol: "There's a lot of distractions. If they would just think about the big picture we could reduce our crashes, which is one of our priorities."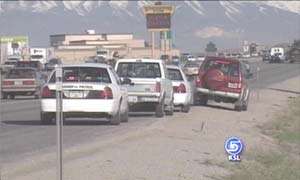 And to help cut down on aggressive driving, the UHP is putting troopers on motorcycles on the freeway in Utah County-- it's a less visible way to look for people who are driving dangerously.
×
Most recent Utah stories