Estimated read time: 1-2 minutes
This archived news story is available only for your personal, non-commercial use. Information in the story may be outdated or superseded by additional information. Reading or replaying the story in its archived form does not constitute a republication of the story.
Sandra Yi reporting One of Governor Olene Walker's legislative vetoes is turning into ammunition for fellow Republicans who want her job.
The issue revolves around the Carson Smith bill, a tuition tax credit bill for children with disabilities.
Governor Olene Walker vetoed the bill, which would have helped parents and others pay the 21 thousand dollar a year tuition at a school for kids with autism.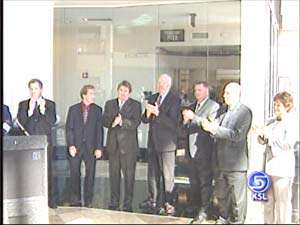 Several gubernatorial candidates, including Senator Parley Hellewell and Fred Lampropulos participated in a press conference at the Matheson Courthouse this morning, saying parents should be given the choice to make decisions for their child's education.
Parents of children with autism also showed up in support. They say it's not easy finding a school who has the resources to educate their children with special needs.
Jennifer Bush, Parent of Autistic Child: "This bill is really about providing stepping stones for our kids to get into the public education system. They need the extra help in order to get there."
Brenda Hanchett-Roach, Parent of Autistic Child: "Financially, it would really help a lot of families and mine included. My husband works 2 jobs and we just have done a lot of things, have made some sacrifices."
Governor Walker said tuition tax credits might take money away from public education. She killed the bill but left the funding in place.
Today, the group is asking, that the legislature override the Governor's veto. It will take 2 thirds vote from both houses, for that to happen.
There were notable absences from today's news conference. No sign of leading contenders like Jim Hansen or Nolan Karras. Jon Huntsman Junior was also not there, but a statement attributed to him was read in support of the bill.
×
Most recent Utah stories