Estimated read time: 2-3 minutes
This archived news story is available only for your personal, non-commercial use. Information in the story may be outdated or superseded by additional information. Reading or replaying the story in its archived form does not constitute a republication of the story.
Jill Atwood ReportingJon Atherley, LDS Hospital Security "She was saying that it was her niece's baby, and that's when I explained to her that you can't just take someone's baby out of the hospital."
A woman posing as a hospital worker snatched a baby right out of its mother's room at LDS Hospital. As it turns out, she wasn't a relative; she wasn't even a friend.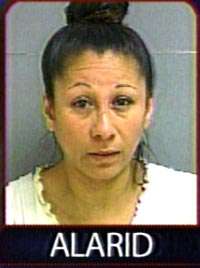 Police say Elizabeth Alarid just wanted a baby. Security and others tracked her down at a nearby grocery store a short time later.
The parents say she appeared to be an employee. She walked in wearing scrubs and said she was taking the baby boy to be circumcised, but when she didn't come back the parents got nervous and went looking.
Immediately hospital staff called out a code pink, which means a baby is missing. Employees noticed the woman with the baby on a different floor and followed her. They knew Alarid looked strange but without proper security back up they just kept an eye on her.
Alarid ended up at a Smith's store sitting on a bench. That's where an LDS Hospital security guard just happened to spot her and confronted her. He says she was very cooperative and didn't seem nervous at all.
Jon Atherley, LDS Hospital Security: "I didn't take the baby at all because there was nobody there to hand the baby to. And so I just let her hold him. She wasn't hurting the baby at all just holding it and cuddling it like it was her own."
Anthony Archuleta, Baby's Father: "I already got one child, she is two years old and this one. I didn't think I was ever going to get him back. And thanks to this woman and everyone else that did what they could to get him back."
Alarid has an extensive criminal background, but police say nothing similar to this. She simply said she wanted a baby and went to LDS Hospital to get one.
The staff at LDS hospital is now reviewing policies, but feel it was just an unavoidable situation. The woman had made up a fake badge and was dressed in scrubs. They do say it's important that parents ask a lot of questions because the Archuleta family wasn't going to have their child circumcised right away.
Alarid faces at the least kidnapping charges, but more could follow.
×
Most recent Utah stories