Estimated read time: 2-3 minutes
This archived news story is available only for your personal, non-commercial use. Information in the story may be outdated or superseded by additional information. Reading or replaying the story in its archived form does not constitute a republication of the story.
Sandra Yi ReportingSue McGhie-Troff, Principal: "We feel like that there's a responsibility with the parents because the elementary students are younger."
If your kids aren't hitting the books during the day, you can be booked in jail, and some parents have learned that lesson the hard way.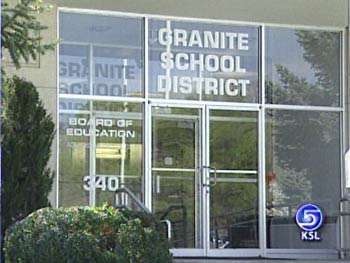 It's state law that all kids go to school. A Granite School District pilot program to enforce that law carries criminal penalties, and so far nearly 50 cases have been referred for prosecution and two parents have been sent to jail.
The district is enforcing the law so that every child is in the classroom, every school day.
James Wilkes: "It's parents' responsibility to make sure the kids get to school and stay there."
It's a sentiment echoed by the Granite School District. It says school is where kids should be during the day, and their parents need to make sure of it.
Sue McGhie-Troff, Granite School District: "What we're more worried about is those students that are not in school, and us not being able to teach them and that becomes a problem."
The district is taking a tougher stance on truancy. It's now actively partnering with prosecutors to enforce the 'Compulsory Education' law. That means parents can be criminally charged if their elementary-aged child misses too much school.
Rachel Aldrich, Parent: "I think it would encourage the parents to make their children go to school if they're allowing them to miss it."
Some schools report truancy as a big problem. One principal tells us some of her students can miss more than 20 days of school. And the reasons aren't often legitimate.
Sue McGhie-Troff: "Some of the other reasons that families give are for babysitting, and of course that would not be an excused absence."
The district will send letters warning letters home. It also offers help for parents. That often fixes the problem, but the district can be forced to do more.
This year, it has referred 45 cases to the Salt Lake County District Attorney's Office. Two parents in two years have even served jail time. Administrators insist it's not a scare tactic.
Sue McGhie-Troff: "That's not our goal. Our goal is to get kids in school."
Many parents support it. They appreciate the schools looking out for their kids.
Rachel Aldrich: "They need to be there every day and especially with kindergarten. I know that some kids have a really hard time and if some kids are allowed to miss, it doesn't make it any easier for them."
Parents can face misdemeanor charges, which carry a penalty of up to 30 days in jail and a $1,000 fine. The Jordan and Salt Lake School Districts have similar policies. Other school districts are watching to see if Granite's pilot program is successful and may follow suit.
×
Most recent Utah stories