Estimated read time: 2-3 minutes
This archived news story is available only for your personal, non-commercial use. Information in the story may be outdated or superseded by additional information. Reading or replaying the story in its archived form does not constitute a republication of the story.
Keith McCord ReportingToday is April 1st-- or April Fools Day. April Fools Day is associated with a change in our calendar. In the 1500's, the new year was always celebrated right around April first. When the current calendar was adopted-- moving the New Year to January First-- many folks didn't want to change their ways and still celebrated in April, these folks were called "April Fools".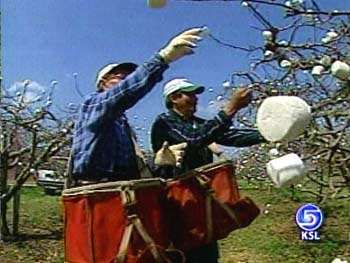 Some people go all out trying to pull the ultimate April Fools prank. We love the fruit grower in North Carolina whose "Marshmallow Tree's" have produced a great crop this year, 350 acres worth.
You don't have to go to such extremes to make people chuckle. There are some simple things you can do right around the office. You can drive some of your co-workers nuts by taking the ball out of the computer mouse. You can liven up the conversation around the water cooler, by just dropping something into the water-- some plastic Easter Eggs will do it.
Or you can go to the copy machine, open the paper tray, grab a stack of paper, and insert a couple pages that say "service copier soon" and put them through the stack-- every 20-pages or so.
You can always do something with a box of Krispy Kreme's; just take out the donuts, superglue some Cheerio's inside, and put the box out on a table some place. That'll always get a double-take. On the boss' desk, you can take all paper clips and make them into a chain.
Just keep in mind, the pranks you play on April Fools Day should always be in good fun and harmless.
A couple more pranks we heard about today: On KSL Radio, Sean Hannity claimed, after a late night revelation last night, that being liberal is OK. Boy did that generate a lot of phone calls to our switchboard
And then there's the woman, who borrowed two *positive* home pregnancy test strips from a friend. She can't wait to show those to her husband tonight. (By the way, these two have 10 kids and 10 grandkids already.)
×
Most recent Utah stories