Estimated read time: 2-3 minutes
This archived news story is available only for your personal, non-commercial use. Information in the story may be outdated or superseded by additional information. Reading or replaying the story in its archived form does not constitute a republication of the story.
John Hollenhorst Reporting An Air Force bomb squad launched an investigation by boat today to try to identify a mysterious object in the Great Salt Lake. They were tipped off by a story we broadcast last week.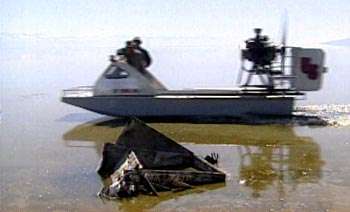 The team from Hill Air Force Base hooked up with the same airboat enthusiasts who raised concerns to us last week about unidentified lurking objects.
Larry Daley, Utah Airboat Association: "I think that that is really good that Hill Field responded so quickly."
A flotilla of six airboats headed out into a vast stretch of saltwater North of Antelope Island. Air Force jets constantly criss-cross the area. They fly between Hill Air Force Base and a bombing range west of the lake.
In November the lake dropped to its lowest level in more than 30 years. Since then it's risen at least a foot. Several unknown objects have become visible in the last year or two. Now The Air Force team wants to know if any are aviation-related.
Staff Sgt. Stuart Wylie, Hill A.F.B. Bomb Squad: "We're going to come out here and do what we can to find out if it is ours. And if it is ours, we will take care of it."
The only object that really caught their attention is one boaters have nicknamed "The Bomb." Some theorize it might be an aviation fuel tank. Bomb Squad Staff Sergeant Stuart Wylie stepped out on the object to study it.
Staff Sgt. Stuart Wylie: "It's a very large steel cylinder with a nose to it and a strong back."
It's immobilized, stuck in lakebed sediment. Wylie measured it's circumference as five feet. But even wading in the water, he was unable to tell how long it is.
Staff Sgt. Stuart Wylie: "It's partially embedded. How far I don't know."
But what is it? Wylie says he won't rule out a bomb or a fuel tank until more study is done.
Staff Sgt. Stuart Wylie: "I can't rule anything out at this time. It's just not enough information. It's so old that we're going to have to do some digging some research."
As for the potential safety issue: our airboat pilot accidentally ran his boat aground, right on top of it, and we lived to tell about it.
The area in question is rarely visited except by duck hunters riding in airboats.
×
Most recent Utah stories