Estimated read time: 2-3 minutes
This archived news story is available only for your personal, non-commercial use. Information in the story may be outdated or superseded by additional information. Reading or replaying the story in its archived form does not constitute a republication of the story.
Sam Penrod ReportingLt. Governor Pat Quinn: "The fact that people of faith were asked to leave our state is not something Illinois is proud of."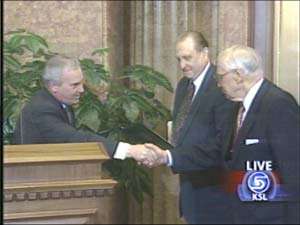 It's an apology more than 150 years in the making. The state of Illinois issues a resolution of regret to the Church of Jesus Christ of Latter-day Saints.
It's being called a new chapter in the history of the Church and the state of Illinois. It's being called a day of reconciliation.
A delegation of lawmakers from Illinois today handed over an official resolution of regret, from their state to the Church of Jesus Christ of Latter-day Saints, and descendants of those who were persecuted over their religious beliefs more than 150 years ago.
Rep. Daniel Burke, Illinois State Representative: "By virtue of the unanimous support our resolution received in the Illinois house of representatives, we have recorded our regret in the permanent record in the state of Illinois. The biases and prejudices of our predecessors in Illinois government so long ago, still haunt us today."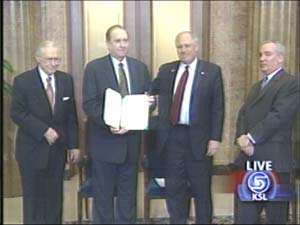 The resolution came about after family of the bill's sponsor visited Utah and heard specifics of the Church's history in Illinois, including the martyrdom of church founder Joseph Smith and the expulsion of thousands of Church members out of the state.
President Thomas S. Monson, First Counselor, First Presidency The Church of Jesus Christ of Latter-day Saints: "President Gordon B. Hinckley asked me to extend his personal appreciation to all involved in this heart-warming action. Certainly the history of the Church in Illinois is a subject dear to his heart."
Church leaders say Illinois remains a place of strong ties to the church, where many historical sites have been restored and the Nauvoo Temple rebuilt.
Pat Quinn, Lt. Governor of Illinois: "It's an opportunity to invite people of the LDS faith to come to Illinois, to visit Nauvoo, to see the historic sites of their faith."
Church leaders say today's occasion is the result of relations with Illinois that have been improving for decades.
Elder Dallin H. Oaks, Quorum of Twelve Apostles, The Church of Jesus Christ of Latter-day Saints: "I think relationships between this state, the state of Illinois, and the people here and the people there have been good for many years, but this is a formal recognition and a very welcome one."
The resolution initially included the words "asking for the pardon and forgiveness of the LDS people." That statement was later replaced with "sincere regret". The bill's sponsor say it was not to lessen the apology-- rather regret seemed to be the appropriate language to set the tone of the resolution.
×
Most recent Utah stories