Estimated read time: 1-2 minutes
This archived news story is available only for your personal, non-commercial use. Information in the story may be outdated or superseded by additional information. Reading or replaying the story in its archived form does not constitute a republication of the story.
Jill Atwood ReportingPeople don't like to talk about it, think about it, or report it, yet the crime of rape can be one of the most violent and emotionally debilitating.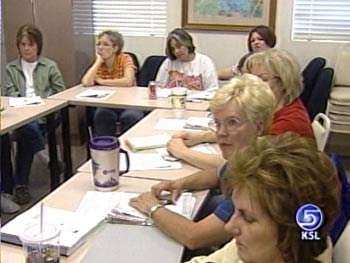 The Safe Harbor Domestic Violence Shelter in Davis County is really taking a proactive stance on this issue. The people you are about to meet will soon be that calming voice on the other end of the line; they could be the first person a rape victim talks to when they decide to go for help.
These women are learning just how crucially important the first 12 hours are after a rape. They're learning what to say to a victim and what to do for a victim, but more importantly they're learning to listen--not judge.
Molly Chynoweth, Safe Harbor Crisis Center: "They are trying to say to these people, it's not their fault. That there are places out there that believe their stories and that are supportive and can help them cope with what they've gone through."
This group is also learning just how easily a man or woman can be victimized. They also learn there are a lot more victims seeking help from crisis shelters rather than police departments. Only one in 10 report being raped; even fewer ever see the inside of courtroom.
Volunteer advocates hope to provide a support system, and would like to help women, even guide them through if they choose to prosecute.
The shelter says they also have a rape advocate on staff and a support group that meets every week. Every week it's full.
×
Most recent Utah stories