Estimated read time: 2-3 minutes
This archived news story is available only for your personal, non-commercial use. Information in the story may be outdated or superseded by additional information. Reading or replaying the story in its archived form does not constitute a republication of the story.
Jed Boal reporting"The mom was just outside crying...saying my baby...and then there was a bunch of fire everywhere."
In a matter of minutes, fire swept through a Salt Lake home, taking the life of a two-year-old girl.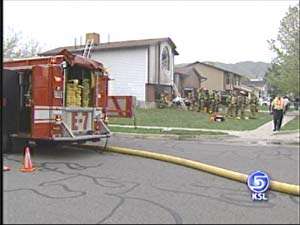 It was a frantic scene in the Salt Lake neighborhood near 1894 W. Springfield.
The mother was hysterical with fear, as firefighters tried desperately to save the toddler.
A number of people watched the fire stunned at what they were seeing...so many in the neighborhood have their own kids.
Many watched and said they felt the mother's pain.
The fire and smoke intensified so quickly, witnesses and firefighters say the home was deadly in a matter of minutes.
Scott Freitag/Salt Lake City Fire Department: "Tremendous amount of heat and smoke inside that home."
Just before five neighbors say Tricia Curran ran out into the lawn with her young son...as smoke poured out of her mother's home.
Aja Jadama/Neighbor: "I came outside and there was smoke everywhere...the windows were still closed and the mom was outside crying."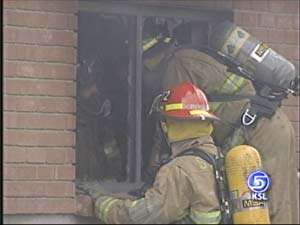 Neighbor Jeff Mortensen was coming home from work. When he pulled around the corner the smoke was so thick he couldn't see.
Jeff Mortensen/Neighbor: "She was screaming the baby was still in the house and some people tried to get in but the smoke and the fire was so thick you couldn't."
Firefighters arrived several minutes after they got the call. They couldn't get right into the home to look for the girl in the basement until they had the fire under control.
By the time they found young Nicole Curran in her basement bedroom, it was too late, apparently killed by smoke inhalation early in the fire.
Jeff Mortensen/Neighbor: "She was a cute little thing...it's tragic...absolutely horrible."
Tricia Curran was overcome with grief and fainted. She and her husband were taken to the hospital.
Firefighters are trying to find out where the fire started and how. A neighbor says the mother told her that the older child was playing with a lighter, but investigators cannot confirm that.
Red Cross moved in quickly to help house the family...and provide immediate grief counseling for family members.
Friends are setting up a victims fund at Transwest Credit Union tomorrow morning.
×
Most recent Utah stories