Estimated read time: 2-3 minutes
This archived news story is available only for your personal, non-commercial use. Information in the story may be outdated or superseded by additional information. Reading or replaying the story in its archived form does not constitute a republication of the story.
Jed Boal ReportingLast summer we introduced you to a Layton woman who had a great stroke of luck shopping for bargain wallpaper. She's still on a lucky streak and she's making the most of the fortune that's come her way.
The next time you stroll through The Gateway, look for the gallery that's anything but ordinary. Painters in the windows, a featured artist with international acclaim, and a story that gets better with each chapter. Just ask gallery owner Corrine Turner.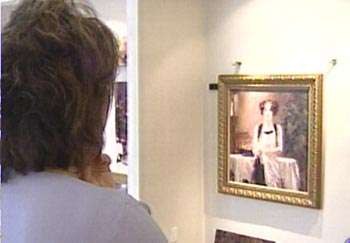 Nine months ago you met Turner when she discovered five prints of a famous artist in the 99-cent wallpaper bin at a bargain store in Ogden. She tracked down the artist, Pino Daeni, who told her to keep the prints.
Turner has Multiple Sclerosis, so with her family she decided to sell the prints and donate the money to Utahns with MS.
Corinne Turner, M.S. Advocate, Gallery Owner: "What started off as a lesson for the kids on what to do with the paintings turned out to be a miracle."
When Pino found out, he was inspired and donated a half-million dollars to Utah MS and dozens of prints and paintings to start this gallery, cleverly called The Art of Giving.
The Gateway donates all but a small percentage of rent for the Gallery and local artists contribute to the cause.
In a short time the Desilynn Multiple Sclerosis Foundation has helped dozens of Utahns with MS.
Corinne Turner: "It's just all come together so well, though, and I don't see myself being able to stop now."
Everything that's happened in this project is almost as though it was meant to be. Inside the gallery, you'll find artists who have heart-felt reasons for working here.
Diana Stover, Artist: "I can't think of anything better to do with your time or talent than to be a part of something like this."
Diana Stover was recently diagnosed with MS. Her daughter has MS and she just happened upon the gallery. The next thing she knew she was painting in the window with her art on sale.
As for Corrine's health?
Corinne Turner: I've been symptom-free since this all happened. There's a part of me that's afraid to stop."
And she wants to share her good fortune with everyone at the Art of Giving. Nearly all proceeds from the paintings go to Utah MS patients. There are nearly 10,000 Utahns with M.S.
×
Most recent Utah stories