Estimated read time: 3-4 minutes
This archived news story is available only for your personal, non-commercial use. Information in the story may be outdated or superseded by additional information. Reading or replaying the story in its archived form does not constitute a republication of the story.
Kim Johnson reporting Some Davis and Viewmont High School students are faced with a huge challenge. They need to raise $41,000 and they have only 12 days to do it.
The money will build the very first high school and dormitory for the Maasai tribe in Kenya. The teens are forced to raise the money without the backing of their schools.
They call themselves "teens helping teens". So far they've raised $9,000 for a school that would serve the Maasai tribe in far away Kenya.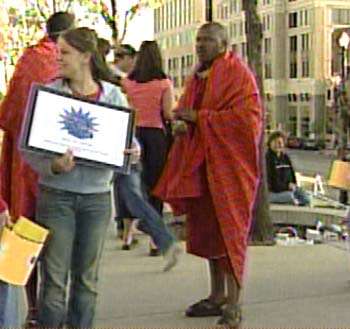 L'makiya Lesarge "Tom"/ Maasai Tribe: "They really want this to happen. And I'm certain it's going to happen."
They still have $41,000 to raise in the next twelve days.
Matt Haws/ Viewmont High Student: "They said, 'You're crazy. How are you going to earn $50,000? You're a teenager!' But I knew if we worked together we would be able to do it."
And so they continue to hold meetings, and to plan how they'll accomplish their monumental task, without their schools' support.
Originally, both Davis and Viewmont pledged support for the African Project. Davis High's principal even signed a letter of intent to raise the $50,000 for the new school.
But Davis High administrators postponed the fundraiser three times, they say to accommodate more pressing fundraising commitments.
Dave Miller/ Advisor, Davis High School: "It was our intent all along, as soon as that was done that we would give our attention to the Africa Project."
Miller and his studentbody officers decided to postpone until after the May first deadline.
Amy Burton, who spearheaded the project for Davis High, says she couldn't waver on her committments.
Amy Burton/ Davis High Student: "I had made committments to the African government, to the Massai tribe, of 700,000 members, to the warriors who were flying over here, to a government that was waiving taxes."
Miller says he didn't realize all that was on the line.
Dave Miller: "Those were all specific details that we were not aware of at the time. We committed to the project of what needed to be done, but the formalities, the finalization of what was going on, we really hadn't communicated well to one another."
Burton says she gave Miller updates weekly.
Amy Burton: "And new things that would come, and I would come to him very excited. And we wrote letters that they signed saying they knew about that. I don't know. That's part of the communication problem. I just don't understand where they're coming from."
Dave Miller: "I would be the first to admit that there were some serious communication problems."
And so they go forward, a throng of students, intent on making a difference.
L'Makiya Lesarge: "I am personally very elated that someone out there is thinking about us, and wants to make a change in our lives."
A change that for teens in two countries a world apart, brings a real life lesson in what it means to keep a promise.
The "Run for Africa" is set for May first in Fruit Heights. It will include a half marathon, a 5k run/walk, an auction, car washes, and a battle of the bands.
Contact Info:
Teens Helping Teens P.O. Box 1023 Centerville, Utah 84014
1-800-275-3003
×
Most recent Utah stories