Estimated read time: 2-3 minutes
This archived news story is available only for your personal, non-commercial use. Information in the story may be outdated or superseded by additional information. Reading or replaying the story in its archived form does not constitute a republication of the story.
John Daley ReportingUtah's drought--now in it's sixth straight year--is taking a tall toll on our trees. Part of the problem is that many of us haven't been very smart about giving the trees the water they need.
From the air you can see one of Utah's greatest assets--impressive swaths of green, leafy trees--many planted decades ago.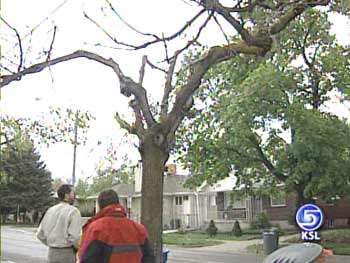 On the ground those same trees make what was a harsh desert landscape thoroughly livable, providing ample shade and beauty.
But make no mistake, in virtually every Utah city a growing percentage of our urban forest is in trouble. Salt Lake's Urban Forester Bill Rutherford showed us a tree on 1700 South; its leaves are almost all gone, its bark is beginning to peal away.
The problem is prolonged drought, a dramatic topping off by Utah Power crews for the utility lines above, and a park strip that homeowners virtually ignored.
Bill Rutherford, Urban Forester: "Drought is a factor for the tree we're looking at. Relative to the trees across the street it hasn't received the same kind of care, it hasn't received the same kind of irrigation. And as a result, you see parts of it dying back."
Though it varies by species and location, 5% of Salt Lake's urban forest is in advanced decline--in serious trouble.
Many trees don't die entirely; instead they give up parts of themselves to protect what remains.
Bill Rutherford: "If we catch a problem early enough, chances are we can intervene and have a successful outcome. If we wait too long, we likely have lost the fight."
One problem, some folks are conserving water and not watering their trees enough. Normally the advice is to water under the drip line, under the edge of the outer branches. But the roots of trees under drought stress shrink back; therefore, we should move the soaker hose back several feet closer to the trunk.
If you have a water-wise landscape, use mulch generously.
Bill Rutherford: "People need to understand these big trees, even though we are in a drought and we need to conserve water, require water. And we need to continue to water them. We can reduce the amount of water but we can't stop it."
Again, don't forget to water your big trees once a week during the summer.
×
Most recent Utah stories