Estimated read time: 2-3 minutes
This archived news story is available only for your personal, non-commercial use. Information in the story may be outdated or superseded by additional information. Reading or replaying the story in its archived form does not constitute a republication of the story.
Jed Boal ReportingIt was a sweet homecoming today for some Utah soldiers who found out only a week ago they were coming home. Soon, their entire 1457th Engineer Combat Battalion will be back.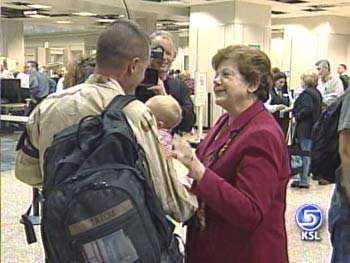 It's been an emotional road for the 1457th Engineer Battalion lately. They were coming home, then they weren't, now they're coming home again. So, for a dozen members released early, they couldn't wait to get their boots on Utah ground again.
Applause from friends and strangers at the airport. Whoops of joy and a handshake from the Governor and Utah National Guard Chief of Staff.
Spc. Ozro Hamblin, 1457th Engineer Combat Battalion: "I didn't think it was gonna happen. It's been coming a long time."
These soldiers reached their two-year, active duty limit and flew out of Kuwait a week ago. It's great to be home, but there are a lot of emotions.
Sgt. Ron Bianchini, 1457th Engineer Combat Battalion: "Kind of disbelief more than anything. When the wheels went up on the plane, it was real then."
They say it was tough to leave the rest of their unit, which found out a week ago they'd been extended 120 days. As it turns out they'll all be home in the next few weeks.
Spc. Kelly Collett, 1457th Engineer Combat Battalion: "I guess we've heard news they're supposed to be coming home. Now we get to be home with our families and our extended family over there is coming home."
In Iraq the soldiers say they saw a lot of Baghdad while stationed at the airport, cleared roadside explosives, and secured convoys.
Spc. Christopher Freestone, 1457th Engineer Combat Battalion: "First time on the ground inside Iraq, we got attacked. Made us think we've got to pay attention to what we've learned."
The soldiers hail from Blanding, Vernal, Cedar City, Provo and Spanish Fork, Sandy and West Valley -- a cross-section of Utah's contribution to Operation Iraqi Freedom.
Gov. Olene Walker: "We care about country, we care about freedom, and we're willing to do our duty."
Most of the soldiers still had some traveling to do to get home from Salt Lake. There will be bigger celebrations when the rest of the unit arrives.
×
Most recent Utah stories