Estimated read time: 2-3 minutes
This archived news story is available only for your personal, non-commercial use. Information in the story may be outdated or superseded by additional information. Reading or replaying the story in its archived form does not constitute a republication of the story.
Keith McCord ReportingWith the weather warming up it's time to think about getting outside and having some fun. There are many fun attractions right here in Utah, and you'll soon be able to visit them without paying an admission fee.
Just in the Salt Lake Valley alone there's the Capitol, Temple Square, the ski resorts. Out west is the copper mine and Antelope Island. Some of these places charge a fee, but in a couple of weeks you'll be able to walk right in!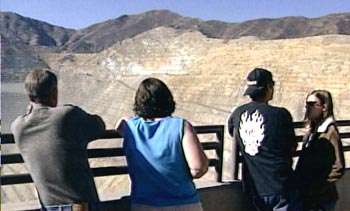 Jason Mathis, Salt Lake Convention & Visitors Bureau: "We were blown away by the success of this program last year. We had no idea it was going to resonate so well. We thought maybe a few hundred people, a few thousand."
Last year the Salt Lake Convention and Visitors Bureau sponsored it's "Be a Tourist in your Own Backyard" program-- one day free admission to several local attractions. 80,000 people took advantage.
It was so successful they're going to do it again on Saturday, May 15th. It will include different locations this year:
--The Utah Museum of Natural History;
--Kennecott's Bingham Canyon Mine;
--Utah Olympic Park;
--The Gardens at Thanksgiving Point;
--And the North American Museum of Ancient Life.
Jason Mathis: "It's an opportunity for people who live here to get out and really see what it's like to be a tourist, to see why all these thousands of people come to Salt Lake every year."
It's no secret that the tourism industry is huge for the entire state of Utah. Visitors pour in more than 4-billion dollars each year to the state's economy. More than 103,000 jobs in Utah are tourism-related. So advertisements and special free-admission promotions help spread the word.
For the "Be a tourist in your own Backyard" program, you can print out your own admission ticket online, at the convention and visitors bureau website.
×
Most recent Utah stories