Estimated read time: 3-4 minutes
This archived news story is available only for your personal, non-commercial use. Information in the story may be outdated or superseded by additional information. Reading or replaying the story in its archived form does not constitute a republication of the story.
Kim Johnson ReportingDale Rasmussen: "It's thrilling. It's overwhelming. I can't describe how good it feels."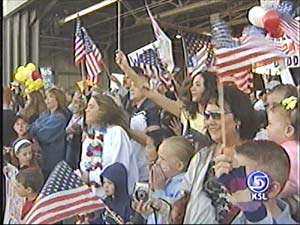 About half of the 1457th Engineering Battalion flew into Salt Lake City today after a few trying weeks of preparing to come home, preparing to redeploy, then finally coming home.
The anticipation was palpable as the plane taxied toward the hangar.
Lt. Col. Jeff Burton, 1457th Battalion Commander: "When we got to see the lake and people realized we were home, we haven't seen mountains in a long time."
Jeff Burton: "You should have heard the sound when we touched the ground."
Some of soldiers seemed awestruck by the huge welcoming crowd. But that sense of awe turned to tears in the loving embraces of family. April Durrant says the 24 hour count down to seeing her husband again was emotional and hectic.
April Durrant: "Excitement. Cleaning the house like a maniac, just making phone calls, and getting everything ready. We're just so thrilled to have him home. It's the best thing ever."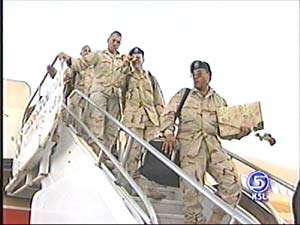 Dallin Anderson says the best thing will be getting acquainted with his very young son.
Dallin Anderson: "He was only two months old when I left. Now he's a year and a half old. It's hard to believe he's grown that much in this period of time."
Cody Smith looks forward to time with his wife Kelsie. The two have been married for six months but have only spent two weeks of it together.
Cody Smith: "I came home on my two weeks leave about six months into the deployment and on October 30th we went up to the Salt Lake temple to get married."
They honeymooned for 10 days in Park City before he returned to Iraq.
Kelsie Smith: "It was very bittersweet, but I'm so glad he was able to come home for two weeks to we could get married."
The bitterness of a long hard separation has finally turned sweet too, for fathers gone from their children, husbands from their wives, and sons from their parents. Fran Jackson's only children were both in Iraq with the 1457th.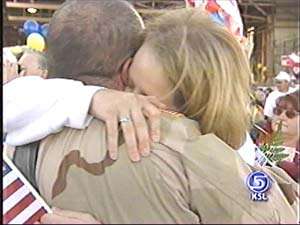 Bret Jackson: "It's still setting in. It doesn't seem real."
But after 15 months, and a close call with an extension, the 1457th is really home.
About 70 more soldiers from the 1457th arrived back in Salt Lake just before 2:00 this afternoon. They were welcomed by hundreds of screaming family and friends.
1st Sgt. Douglas Adair: "As we pulled onto the runway the pilot said look to your left there's a lot of happy people there. Sure enough there was."
Staff Sgt. Michael Quarles: "I don't think there's any words that can put into it the feeling of once you touch ground back here at home seeing your loved ones that you've been without for quite a while now."
Governor Olene Walker also stopped by the homecoming to take pictures and shake the hands of some of the soldiers. The soldiers were also the honored guests of a parade through Tooele this afternoon. They rode on top of fire trucks while family and members of Bikers Against Child Abuse followed behind.
The other half of the 1457th will return home Wednesday.
×
Most recent Utah stories