Estimated read time: 2-3 minutes
This archived news story is available only for your personal, non-commercial use. Information in the story may be outdated or superseded by additional information. Reading or replaying the story in its archived form does not constitute a republication of the story.
John Hollenhorst ReportingAbout 5,000 new residents moved into the Park City area today. They're all tiny, wiggly and wet--and they will soon turn into frogs!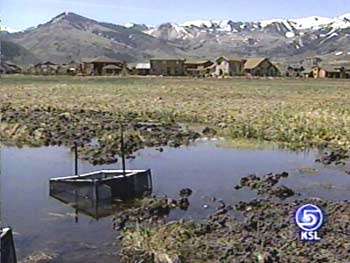 Yes, we're talking about 5,000 tadpoles. Their arrival was actually a homecoming and an effort to protect them from extinction.
A meadow on the fringe of Park City used to be prime habitat for the Columbia Spotted Frog. Once prevalent throughout the West, the species is now relatively rare, pressured by urban sprawl into isolated pockets of survival.
Several agencies working together are reintroducing spotted frog tadpoles, hatched in captivity at BYU. Their new home is a man-made wetlands.
Tad Swaner says the spotted frog was common here when he was growing up. They disappeared before the Swaner Family began efforts to protect the 1200-acre Swaner Nature Preserve, now surrounded by homes, condos, big box stores and fast food.
Tad Swaner, Swaner Nature Preserve: "The encroachment of our developments and neighborhoods has really taken over a lot of the prime area for what is really the most sensitive creatures on the planet."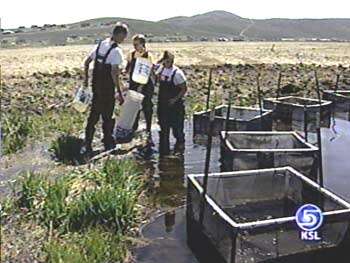 Frogs are often the first species to disappear when humans move in. They often die because they can't just pack up and move out.
Krissy Wilson, Wildlife Biologist: "They have to stay at that little habitat, especially spotted frogs. They are what we call truly aquatic which means they have to have water year round."
Even in the best habitat, nature can be very cruel. They're releasing about 5,000 tadpoles, expecting only two or three hundred to survive. The hope is that the survivors will eventually repopulate the entire preserve.
Tad Swaner: "And this frog is going to be an indicator for if we're doing things right out here."
A hardier species of frog has hung on in the face of development. It's a species known as the Chorus Frog provided a welcoming chorus for long lost cousins, coming home.
The tadpoles will be submerged in protective cages for several weeks until they turn into frogs later this summer.
×
Most recent Utah stories