Estimated read time: 2-3 minutes
This archived news story is available only for your personal, non-commercial use. Information in the story may be outdated or superseded by additional information. Reading or replaying the story in its archived form does not constitute a republication of the story.
Ed Yeates ReportingWith the threat of the West Nile Virus looming this year, some of our viewers are asking for more information about mosquito repellents. State Health has made it clear this year that unless you use a repellent containing the chemical called DEET, you won't effectively repel mosquitoes.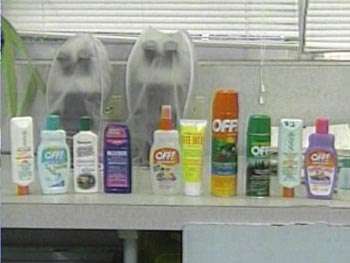 A little about mosquitoes. First, they see movement and head that way. Then they pick up on the carbon dioxide we exhale. But in order to land and bite, they must detect lactic acid, which is released in our sweat. That's where DEET comes in. It makes it so the mosquito can't recognize the lactic acid. They may buzz around us and get real close, but won't bite.
So how's the safest way to use DEET? Unless you're near a mosquito infested swamp, avoid products with 80 to 95 percent DEET. Ten percent will do just as well for a couple of hours outdoors in your backyard. Thirty percent will last up to five hours .
For young kids like 9-month Adam Baksh, the lower concentrations of DEET are safe. But spray it on your hand first and gently rub it onto exposed skin, including the face, but carefully.
Michelle Korth, State Health Dept.: "Around the cheeks, under the neck, behind the ears, the back of the neck. And don't get it near the eyes. Don't get it near the mouth."
Avoid rubbing DEET on the palms of the child's hand or the fingers. For both children and adults, avoid cuts and rashes. Also, DO NOT use sunscreens containing DEET since DEET lasts longer than the sunscreen. Apply them as separate products.
Barbara Crouch, Director, Utah Poison Control Center: "What we don't want to do is put parents in a situation where they are repeatedly applying sunscreen with the DEET and then again getting higher concentrations of DEET on the skin than are really necessary."
Howard Deer with USU reminds us we can spray DEET products on clothes - the outer rims of cuffs and collars and on the brims of baseball caps.
×
Most recent Utah stories