Estimated read time: 2-3 minutes
This archived news story is available only for your personal, non-commercial use. Information in the story may be outdated or superseded by additional information. Reading or replaying the story in its archived form does not constitute a republication of the story.
Sandra Yi ReportingIt's home sweet home for more Utah soldiers. Emotions ran high as they saw their loved ones for the first time in 15 months.
Sgt. Jennifer Nielsen: "It's great to be back with my family."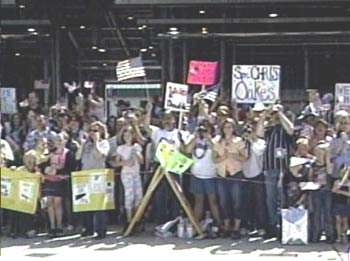 The soldiers are part of the 1457th Engineer Combat Battalion. Members of that unit started returning home late last month. Today 160 more members came home. Half of them arrived this morning and the rest this afternoon.
Kolleen White: "I waited for this day for 15 months."
Soldiers returned home today to a hero's welcome.
Spc. Kyle Christensen: "I can't explain how I feel. It's good to be home. It's been a long time. It's just great to be home."
The reunions were emotional--lots of tears and laughter. For families and friends this day was picture perfect.
Michelle Christensen, Husband Returned Home: "I'm so proud of him, I can't even tell you. He's our hero."
Sgt. Jennifer Nielsen says she missed her family most. She says, today she's alive again.
Sgt. Jennifer Nielsen: "After a while you just kind of go numb. When you get back it disappears. It's better now."
These soldiers, made up of construction and demolition experts, were stationed in Baghdad. They're part of the 1457th Engineer Combat Battalion. Their mission lasted 15 months. For Sgt. Brad Wadley, the timing was on the mark. His daughter's 'Sweet 16' is tomorrow.
Stella Wadley: "Mother's Day, his daughter's birthday, it couldn't be better. I'm just glad they're all home safe. Bless their hearts."
These soldiers say they're lucky to be home. Still, their brothers and sisters who continue to serve are not far from their minds.
Spc. Kyle Christensen: "Our thoughts are always of the troops still over there, especially the new ones getting there because we've been through a lot of same stuff we're going through, and hope they have a lot of luck and get home safe as we did."
The rest of the unit is expected next week. Meantime, different communities are welcoming home their soldiers.
The warm welcome for these 1457th soldiers will continue all the way home. These guys have a lot of catching up to do with family and friends and there's nothing quite like giving their loved ones a "feeling" of what it was like.
Soldiers boarded buses to make the last leg of their long journey home. Word of the troops' return spread fast throughout Utah. Supporters in Vernal came out to cheer the buses and vans as they passed through town.
Everyone seemed to be in true patriotic spirit and some were overcome with emotion.
Louis: "Well, you know it felt so good I had to cry. You know, what can I say?"
After 15 months of serving in Iraq, there's no place like home.
×
Most recent Utah stories