Estimated read time: 2-3 minutes
This archived news story is available only for your personal, non-commercial use. Information in the story may be outdated or superseded by additional information. Reading or replaying the story in its archived form does not constitute a republication of the story.
Sam Penrod ReportingLt. Doug Edwards, Orem Police Dept.: "He made a comment to how cute she was, and then reached out and tried to take a hold of her."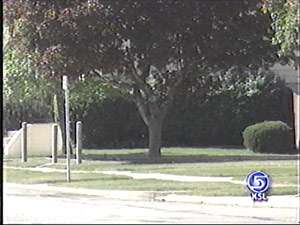 Orem Police are looking for a man who tried to force himself onto a teenage girl after claiming he was an undercover police officer. He approached the 16-year old girl as she was walking home from school. Now police have issued a warning that the man is no cop.
It's certainly a frightening situation for the Orem neighborhood, but fortunately in this case the young victim was able to get away without being assaulted; but the victim is still out there.
The 16-year old was walking home from school yesterday afternoon. That was when, she says, a man claiming to be an undercover cop approached her. Police say the girl was apprehensive, but felt the need to talk to the man because of his claims of being an officer.
The two sat under a tree, when the girl says the man tried to kiss her. She had kept her distance and ran away and called the real police who are looking for suspects.
Lt. Doug Edwards: "There are undercover agents who periodically come into contact with members of the public, but are very cautious and professional in how they conduct business and will often asked a marked unit to come by to alleviate any fears that someone may have about who they are and who they are dealing with."
The girl gave police this description of the suspect -- a white man in his mid-twenties, with a medium build, with bleached blonde hair and a tattoo.
Police say they are following one potential lead in the case, but are still asking for anyone with information on this suspect to call the Orem Police.
×
Most recent Utah stories