Estimated read time: 3-4 minutes
This archived news story is available only for your personal, non-commercial use. Information in the story may be outdated or superseded by additional information. Reading or replaying the story in its archived form does not constitute a republication of the story.
LARAMIE, WYO. - The Wyoming Cowboys had a surprising first half of the 2009 season going 4-2 and undefeated in the Mountain West Conference. Now the Cowboys (4-3, 2-1 MWC) are in the midst of the toughest stretch in their schedule.
They lost two weeks ago to Air Force. Now after a bye, they face No. 16 Utah, BYU and No. 6 TCU in three of the next four weeks and four of their last six games (including the Air Force loss) are on the road.
With what looked like a promising season for first year Head Coach Dave Chistensen, now looks like a struggle to reach six wins and a bowl berth.
"We had a productive bye week coming off that loss to Air Force," Christensen said. "(We are) looking forward to the opportunity to get out and compete again against a very good Utah team."
That Utah team is on a roll. After a disappointing loss to Oregon, the Utes (6-1, 3-0) have run off four straight wins and have moved back into the Top 25. It hasn't been pretty, but typical of a Kyle Whittingham-coached team; they hang around long enough and make just enough plays to come out on top.
"They're fortunate that they've got a lot of (playmakers)," Christensen said. "They've got a very good, physical offensive line. Obviously (Terrance) Cain does a good job at quarterback. You thought they'd take a step back with their run game; they haven't. (Eddie) Wide has done a great job. He's a different kind of runner, but he's a very, very athletic speed runner and their receiving core is catching the football.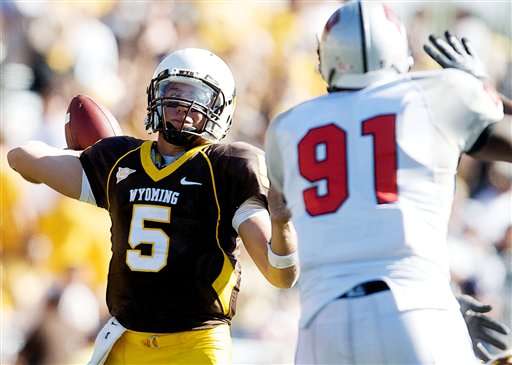 "They're a difficult team to defend because they have a dual threat at quarterback and he can hurt you with his feet or his arm and a lot of playmakers around him."
Freshman quarterback Austyn Carta-Samuels leads the Cowboys into Salt Lake City. Carta-Samuels took over full-time after the Colorado game and had performed well up to the Air Force game. His stats don't jump out at you (108-189, 1,057 yards, 6 Touchdowns), but Christensen said Carta-Samuels success comes from his game management.
"He's done a nice job of executing the offense. He provides great leadership. He's doing a nice job protecting the football, making good decisions with it and just overall running the offense," Christensen said. "The things you'd like to get from the quarterback position, he, I felt, stepped up in the Colorado game. I just had a feeling from that point on we needed one guy we could focus on, that this team could rally around and he was the guy."
Carta-Samuels is also a capable runner, something the Cowboys take advantage of to keep defenses guessing.
But Christensen knows the Ute defense is capable of confusing and frustrating his quarterback much like Air Force was able to do. He mentioned specifically Utah's speed and explosiveness.
"They are very, very physical, particularly their inside guys," Christensen noticed. "They've got great speed on the edges and in the secondary. They are a sound football team.
"You've got a problem if you (scheme for select individuals) because they have more than one or two guys. If you try to overcompensate for one guy then somebody else will make a play. They have too many good playmakers."
Christensen said against such a good defense, success comes from executing the offense and staying with what his team does well.
"What we have to do is have a good plan put together and we've got to do a great in blocking and protecting our thrower, find ways to get our receivers open and try to execute our offense at a higher level than we did two weeks ago."
Christensen understands the test his team is up against this weekend, but hopes they can and will rebound from the loss at Air Force.
This current stretch of games will tell Christensen a lot about his team and the conference.
×
Most recent Utah stories