Estimated read time: 3-4 minutes
This archived news story is available only for your personal, non-commercial use. Information in the story may be outdated or superseded by additional information. Reading or replaying the story in its archived form does not constitute a republication of the story.
John Hollenhorst Reporting If someone told you they'd seen a giant, red-eyed monster in Northern Utah you'd think he was crazy! But seemingly sane people have been telling such stories for more than a century.
With all the bad news that leads newscasts, it's probably good for our heads to consider something monstrous, but fun. The legend, or myth, of the Bear Lake Monster.
Is it possible that somewhere in that immense body of water there's something lurking that's a little bit scary?
Dr. Conrad Nebeker, Bear Lake: "Now and again when the weather's just right and the sunlight's right, you see these strips and ribbons on the lake of coloration that you could imagine there was such a thing."
Actually, it doesn't take much imagination. One man claims he saw the real thing two years ago.
Brian Hirschi, Garden City: "I saw it shoot out of the water pretty much like a whale would come out of the water. So I saw its upper body and its head, had a long neck, red eyes, and dark green skin."
In these parts they even sing about the monster.
Cache Children's Choir: "But I've heard tell he's vicious. And children are delicious...."
At Utah State the library has a painting depicting the terror of Bear Lake, supposedly based on Indian legend. Around the lake you can get Bear Lake Monster pins. You can buy a Bear Lake Monster for $3.99. You can even get fries with that.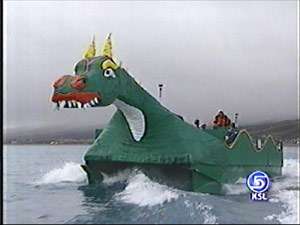 Brian Hirschi's boat, made to look like the monster, was actually built by Conrad Nebeker, the guy who's noticed those mysterious ripples on the lake. So what does he think?
Dr. Conrad Nebeker: "Well, you know, are you asking whether I'm sane or not? Course it isn't a monster."
But what to make of this guy, Will Bagley, writer of history books and a history column in the Salt Lake Tribune.
Will Bagley: "My goal as a historian is to prove the existence of the Bear Lake monster. And I'm persuaded from the evidence I've seen that it's conclusive."
Curiously, the legend was started by the Tribune's arch-rival Deseret News. Correspondent Joseph Rich reported sightings in 1868. Prominent religious leaders Wilford Woodruff and George Q. Cannon also reported something.
Even Brigham Young put his personal credibility behind it. He not only believed it, he provided a rope for a local resident to try to snare the monster.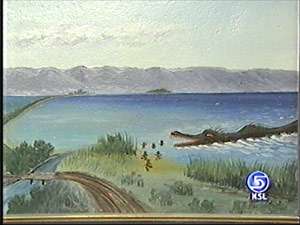 Will Bagley: "Unfortunately, monsters are not known to take bait."
At Utah State, Charlene Hirschi explored the history. She says the legend began as a publicity stunt and Joseph Rich later admitted it.
Charlene Hirschi: "He told us what his motive was. His motive was simply that he wanted to, that Bear Lake wasn't getting enough attention. And that he wanted to promote Bear Lake." Will Bagley: "I've never seen anything that indicated he didn't go to his deathbed believing in the Bear Lake monster."
The last word goes to Conrad Nebeker, who built the boat for fun and then sold it.
Dr. Conrad Nebeker: "Yes, perpetuating the nonsense. Right. People are more interested in nonsense than they are in fact sometimes."
What about those Indian legends? Some people think Joseph Rich made those up too. But believing in the monster doesn't cost a thing.
×
Most recent Utah stories