Estimated read time: 2-3 minutes
This archived news story is available only for your personal, non-commercial use. Information in the story may be outdated or superseded by additional information. Reading or replaying the story in its archived form does not constitute a republication of the story.
Jill Atwood ReportingOne of Utah's most wanted fought being caught to the bitter end this morning. Finally, with police surrounding his truck and nowhere left to run, he surrendered.
Police say 30-year old Tracey Martin left his house about 3 a.m. this morning, and they were waiting for him. When they went to arrest him, he took off. From there the chase was on through both Weber and Davis Counties.
Troopers spiked his tires, but still Martin kept on going. He finally lost control of his truck and slammed into a fence.
This is a man we first told you about last night. He has a long criminal history and police were not about to let him get away. The FBI wants to talk to him about years' worth of health insurance fraud, now add to the list evading police and robbery.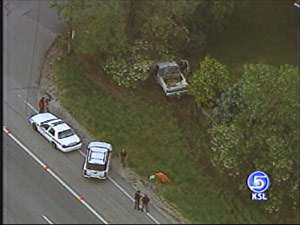 Lt. Brad Wilcox, Davis County Sheriff's Office: "There is also indication that he is a suspect in an early morning robbery in Roy."
Finally, after weaving through both Weber and Davis Counties, Martin lost control and ended up in someone's backyard, but it wasn't over yet. As swat teams swarmed, Martin refused to get out.
Police became increasingly worried about what he might do so they warned neighbors.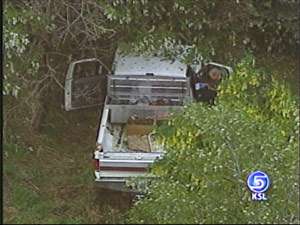 Clifford Curtis, Homeowner: "When they saw me peering out the window when they had their guns drawn around the suspect, they told me to evacuate my house; they came around and banged on my door and told me to get out."
But Don Casey has six kids and didn't feel comfortable bringing his family out so they just stayed inside and waited.
Don Casey: "I felt that if I actually got out of my front door and walked out, I don't have a back door, that I would be putting my kids in the line of fire. So I said, 'We'll just put them in the basement,' so we stayed in and just buckled down."
Patience wearing thin, the swat team moves in. Moments later Martin was under arrest.
Agents say inside his car they found a gun, which turned out to be like a bb gun, some syringes and some Oxycontin, which they think he may have stolen from a local drugstore just last night.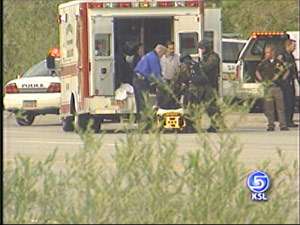 Martin was already on parole for several felony convictions, and tonight he's facing a lot of state and federal charges.
×
Most recent Utah stories