Estimated read time: 1-2 minutes
This archived news story is available only for your personal, non-commercial use. Information in the story may be outdated or superseded by additional information. Reading or replaying the story in its archived form does not constitute a republication of the story.
Ed Yeates ReportingIn a remarkable discovery at the University of Utah, geneticists have unraveled a mechanism in all living organisms that sends out the commands for life and death. The finding potentially could help other researchers find ways to kill unwanted cells, like cancer.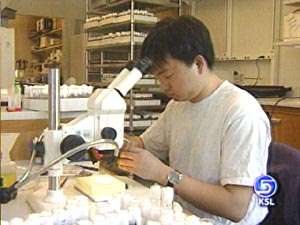 Hollywood's image of the grim reaper - a huge, faceless, frightening entity whose shadow lurks at every death's door. But inside us, a microscopic reaper is not so villainous.
This reaper is a microscopic gene. When it joins forces with another gene called HID, the two together override a third genetic commando which blocks death.
Dr. Carl Thummel, University of Utah Geneticist: "When these genes are turned on, HID and reaper, through the hormone, they overcome this inhibitor and unleash death."
But in this case, it's welcomed since Reaper and HID, through steroid hormones, commands the death of unwanted cells, or tissue no longer needed.
The U's findings are dramatically demonstrated in fruit flies. Commands from Reaper and HID go out. Death is unleashed inside the larvae, but death only to tissue no longer needed as metamorphosis unfolds to produce a fully formed fruit fly.
Dr. Carl Thummel: "Within hours, those larval tissues are massively destroyed."
Commands balanced out among the three genes almost follow a rhythm.
Dr. Carl Thummel: "It actually beats out the rhythm of the entire insect life cycle in pulses that are released into the circulatory system. Clearly, you don't want cell death to occur too early."
Carl Thummel and Viravuth Yin say practical applications of their findings could help other researchers now develop drugs which might direct Reaper and HID to command the death of only cancer cells.
The study appears in this week's Proceedings of the National Academy of Sciences, which is supporting the Utah research.
×
Most recent Utah stories