Estimated read time: 2-3 minutes
This archived news story is available only for your personal, non-commercial use. Information in the story may be outdated or superseded by additional information. Reading or replaying the story in its archived form does not constitute a republication of the story.
Carole Mikita ReportingThe five daughters of Dr. Herbert Ungricht talked today about their father's love of family, medicine and his community. Dr. Ungricht, an ophthalmologist, died Monday morning in a fire inside his garage.
Dr. Ungricht's daughers say they are grateful for all the concern from the community. They wish for everyone to know how committed their dad was to them and to all people he felt he could help.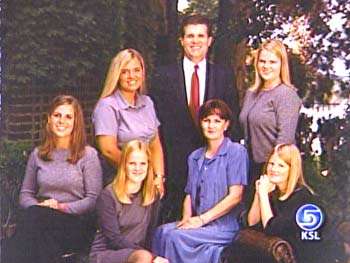 Barbara Ungricht: "He was the most unselfish person. He just gave and gave. If he found out that someone was down or anything, he would just talk to them until he knew they were ok."
Herbert Ungricht, his daughters say, was a family first man and they were the recipients of his love and wisdom and affection.
Together the daughters and their mother witnessed a horrible scene -- explosions and fire that killed their father at their home Monday morning.
The oldest, Laura is married to Steve Huff, they have a seven-week-old baby, Derek. Melanie will go back to the U, she just returned from an LDS mission to Brazil. Barbara is about to leave for a mission to Switzerland. Andrea is a graduating senior at Skyline. Karen just finished her sophomore year there. They say their dad was so proud to have five girls...
Andrea Ungricht: "He always just made sure that he never forced us to do anything, just what we wanted. And just to try our best and not give up and stuff."
Karen Ungricht: "Always was so happy about everything. No matter what you have to do just be happy, so that helped me. He was always smiling."
Dr. Ungricht practiced medicine for more than 20 years in Murray as an eye surgeon.
Laura Ungricht Huff: "I remember at night sometimes he would be leaving because he had to go take care of a patient who was sick, and he just really taught us through example that it was really important to love what you do and put your whole heart into it."
As a Latter-day Saint bishop, Dr. Ungricht watched over hundreds of married students at the University of Utah.
Melanie Ungricht: "I just think he's so well-rounded. I mean his scouting, his church callings, his family, his extended family, everything; he's had such a good balance in life."
Their mother, Yvonne, suffered serious burns on her hands, trying to rescue her husband. She is recovering. Dr. Ungricht's brother has set up a memorial fund for the daughters at Bank One.
×
Most recent Utah stories