Estimated read time: 1-2 minutes
This archived news story is available only for your personal, non-commercial use. Information in the story may be outdated or superseded by additional information. Reading or replaying the story in its archived form does not constitute a republication of the story.
Richard Piatt ReportingThe Governor's race takes a decidedly negative turn uncovered by a phone message. One of the Republican candidates for Governor says the primary race has turned a little mean. It involves what the Jon Huntsman campaign calls threats against Huntsman and his billionaire father.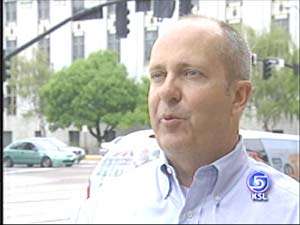 It started with a voice mail from a Nolan Karras supporter to a friend who supports Huntsman. But that message is being taken as far from friendly---in fact menacing by Huntsman's people.
At the convention everyone knew it was going to be a hard-fought race between Nolan Karras and Jon Huntsman Junior. But less than two weeks later the gloves have come off.
Nolan Karras has been the target of print articles about his relationship to the controversial waste company Envirocare. That prompted Karras campaign volunteer Spencer Stokes to make the phone call.
"Just tell Jon Senior to be warned that if you guys decide you are going to go negative on Nolan, hell hath no fury. We have a lot of s--- on Jon Huntsman Senior and Junior that we've not used. But if he's going to play that game, we will play that one too."
It might be sad, but it's not entirely surprising. What this boils down to is a little light being shown on the mostly hidden back and forth in political campaigns. The question is: How long will the effects of this phone message last, and will it matter come election day?
×
Most recent Utah stories