Estimated read time: 1-2 minutes
This archived news story is available only for your personal, non-commercial use. Information in the story may be outdated or superseded by additional information. Reading or replaying the story in its archived form does not constitute a republication of the story.
Debbie Dujanovic ReportingSmall-town Utah has been rocked by the threat of violence at a high school. A couple of Sophomores at South Summit High were suspended and face felony charges.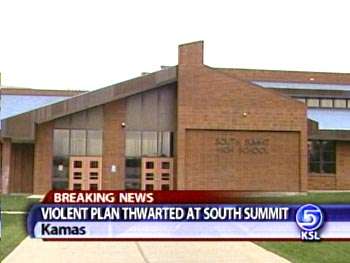 It's all the talk at South Summit High School. A tip from concerned students to police led to locker searches there. What police uncovered has shocked everyone.
Officers found 200 pages of documents, graphic pictures, drawings and plans for violent acts against students and teachers. What police seized talked about murder, suicide and guns.
Two students, both Sophomores, are suspended. Police also searched the homes of both boys and found drugs.
Today, police are pursuing felony charges against both students.
Sheriff David Edmunds, South Summit County Sheriff's Dept.: "In a small community like this you certainly don't believe you've got kids out there that are writing things down and drawing such horrific acts of violence. It's very disconcerting."
Michael Radkey, Sophomore, South Summit High School: "I don't think it was a joke because they're pretty serious kids."
Another document taken out of the lockers talks about the Columbine killings in Colorado.
Both students have been released from custody and turned over to their parents. They're suspended form South Summit High for the rest of the school year.
Police feel they've avoided a very dangerous, if not deadly situation.
×
Most recent Utah stories