Estimated read time: 3-4 minutes
This archived news story is available only for your personal, non-commercial use. Information in the story may be outdated or superseded by additional information. Reading or replaying the story in its archived form does not constitute a republication of the story.
Kimberly Houk ReportingJohn Daniel Kingston and his wife Heidi Foster were in court today, battling to get back their two teenage daughters who ran away several months ago. The Guardian ad Litem, who's the attorney responsible for the welfare of the children, is trying to prove that John Daniel Kingston abuses his children and their mother fails to protect them.
It will soon be up to the judge to decide if the two teenage girls will be returned to Kingston and his wife, or if they're rights as parents will be terminated.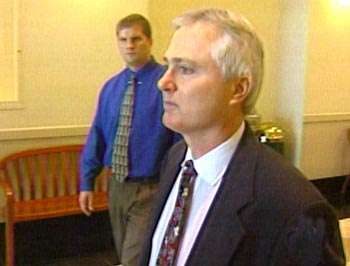 The aunt to the two teenage runaways testified in court that in February Kingston's 13 and 15-year old daughters came home with pierced ears, which enraged their father. They ran and later called their aunt saying "you know what he's going to do to me." They are now in the state's custody.
Today, Kingston took the stand in court. When asked to name all of his children, he struggled trying to remember all of their names.
Andrea Moore Emmett, Utah NOW: "He started out he named probably five then he started over. Then he counted and named three. And then he tried again. He asked for water, said he was nervous, and he never did name all of his ten children by this particular wife."
The Guardian ad Litem told the judge this goes to prove that the Kingston children are neglected. At that point the judge let Kingston confer with his lawyer. From then on Kingston plead his fifth amendment rights to every question regarding how many women he's fathered children with and how many children he has.
Caseworkers for the state have investigated the Foster home four times in the past decade for neglect and extremely unhealthy living conditions.
A police report was filed in February after a three and five-year old child were found walking along a busy road alone. The report goes on to say that when the Kingston kids were taken back home, the investigating police officer says she walked into a home that was filthy, smelly, full of garbage and rotting food, and this is how the Foster children were living.
The Guardian ad Litem's office has spent the past two days establishing a pattern of neglect within this home. Today, they tried to bring up a case back in 1998 in which Kingston plead no contest to severely beating his 16-year old daughter at the time, Maryann Kingston after she ran from the clan refusing to marry her uncle. Kingston spent 28 weeks in jail for that.
But the defense team objected to that case being brought into court today, saying they didn't have enough time to prepare a defense against it.
Some time next week the judge will decide if Kingston's parental rights will be terminated. It will be a judgment that could have far reaching implications.
There are eight children still living in the Foster home, but Kingston and Foster have 10 children counting the two teenage girls who are now in the state's custody.
If the judge decides to terminate the parental rights, the other eight children would also be removed from the home, and the state could then go after all the rest of Kingston's children. The exact number of how many kids he has, has not yet come out in court, but what has surfaced is the allegation that he has 14 wives.
Here's something to remember about this case, the judge accepted as evidence 13 hours worth of taped testimony from Kingston's two teenage daughters where it is reported that they detailed years worth of abuse and talked about how the Kingstan clan operates.
The judge ordered today that those transcripts will be released to the press at some point in the future.
×
Most recent Utah stories