Estimated read time: 2-3 minutes
This archived news story is available only for your personal, non-commercial use. Information in the story may be outdated or superseded by additional information. Reading or replaying the story in its archived form does not constitute a republication of the story.
Debbie DujanovicAttacked, bitten and dragged by two Rottweilers today. A Salt Lake boy says he thought he was dead. But 11-year old Javier Tapia survived, and there are some amazing reasons why.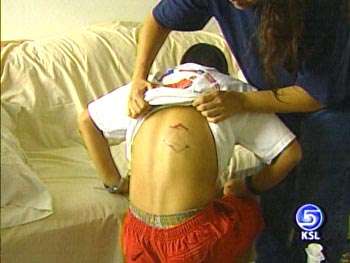 The first reason is Javier himself. As the dogs savagely bit him over and over, he fought back. He was riding his bike to school when the two dogs broke out of their fenced yard. They came out from behind a trash can and attacked.
Javier Tapia is in a lot of pain. He has deep wounds all down his backside. He's also dealing with emotional scars.
Javier: "I thought they were going to kill me. They jumped on my bike and knocked me to the ground and just kept biting my backpack."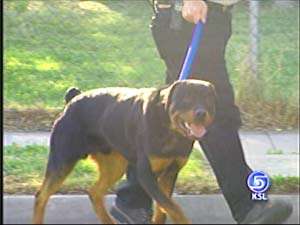 Javier and his mom are thankful his backpack took a few of the bites. They're also grateful to the people who saved Javier. One woman tried to distract the dogs as they attacked.
Maria Tapia, Javier's Mother: "The other lady threw a rock to try to get the dogs off Javier. I'm just glad he didn't get hurt worse than he did."
And they're glad David Stenquist came along, and pulled Javier from the chaos.
David Stenquist: "They just had him by his backpack, one had him by his arm and they were just dragging him."
With Javier pulled to safety, the dogs then went to an elderly woman. Enter Salt Lake sanitation worker Johnny Carter. On his normal route this morning, he and his garbage truck scared the dogs off.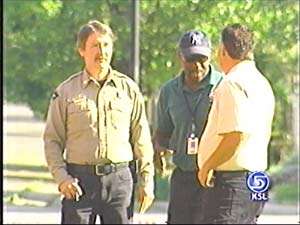 Johnny Carter, Salt Lake City Sanitation Dept.: "After about 30 seconds of blowing on the horn and driving toward the dogs it finally worked."
The woman got away and tonight Javier is recovering at home.
Tonight, both dogs have been put to sleep, the owner's been cited and faces fines and possible jail time.
×
Most recent Utah stories