Estimated read time: 2-3 minutes
This archived news story is available only for your personal, non-commercial use. Information in the story may be outdated or superseded by additional information. Reading or replaying the story in its archived form does not constitute a republication of the story.
Ed Yeates ReportingCalifornia might become the first state to ban teenagers from artificial tanning booths. The State Assembly in Sacramento voted 42 to 26 in favor of the ban. If the Senate now passes the bill, it will become law. Utah's Dermatological Society would favor similar restrictions here.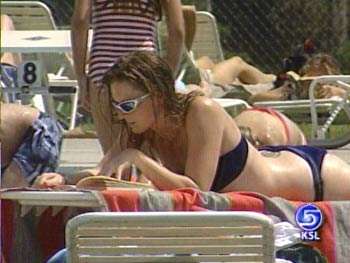 With one million new cases of skin cancer expected by the end of this year, dermatologists believe it's time to mandate some public health prohibitions. Based on legislative action in Sacramento, lawmakers are apparently listening, especially to what's happening to young people under the age of eighteen.
Ralph Bradley, M.D., President, Utah Society of Dermatological Medicine & Surgery: "Since skin cancer makes up more cancers than all of the other cancers put together, it's exciting to see some real efforts taking place to worry about the health of people and do things that will make a difference."
If the bill passes in California a teenager would have to have a doctor or a surgeon's prescription before being allowed to tan indoors.
Dr. Ralph Bradley says the big worry is the rise in deadly malignant melanomas in fair skinned people.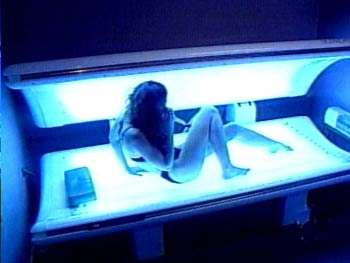 Dr. Bradley: "The melanoma rate is dramatically going up. In fact the latest figures that I saw they're predicting during the year 2004 that about 95,800 cases of malignant melanoma will be discovered and that's up four percent from just last year."
Dr. Bradley says indoor tanning becomes an even bigger issue in Utah since when combined with sun exposure at our high altitude, the risk increases even more -- for teenagers especially.
Dr. Bradley: "People who are under age eighteen get 80 percent of their sun during that brief period of their life and since it's sun and additive sun - that they won't notice the difference like other radiations until many years later."
Dermatologists use a poster to dramatically illustrate what happens to that youthful teenage cheerleadering body when UV damage sets in.
Despite the claims, Utah tanning salons say the California legislation goes too far. Some controls are already in place in Salt Lake City. One particular tanning salon, for example, requires the presence of a parent for anyone under age sixteen.
Carlyn Morris, Electric Beach Salons: "We need a consent, we need a parent present for them to sign their kid away so that they can go tanning."
Carlyn Morris believes parental caution and guidance is better than governmental control. But 19-year old Annie Holt, who used to work in a tanning salon, disagrees. She says she saw too many overuse the booths.
Annie Holt: "We had our regulars between the ages of 15 and 30 who came in every other day."
Tanning salons claim teens make up less than one percent of their customer base.
×
Most recent Utah stories