Estimated read time: 3-4 minutes
This archived news story is available only for your personal, non-commercial use. Information in the story may be outdated or superseded by additional information. Reading or replaying the story in its archived form does not constitute a republication of the story.
John Hollenhorst ReportingRyan Christensen, Witness: "Looked like a mother, and I saw the stroller clearly get hit. And just everything went flying. Looked like an awful impact."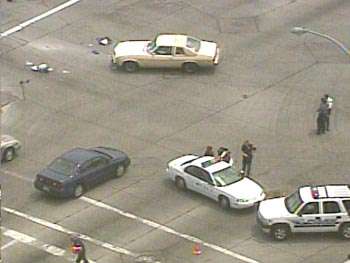 Police say a car ran a red light in Salt Lake City today and plowed into a family of four. Two of the victims were in baby strollers.
Paramedics initially listed the four victims in "critical" condition. Now the parents at least have been upgraded to "serious" or "good" condition at area hospitals.
According to police, the family was crossing that crosswalk on a green light. It was a mom and dad and their two toddlers in strollers. Police say they don't know why a driver ran a red light and barreled right into them.
When he saw what happened, the driver covered his face. He told police he fell asleep at the wheel.
One stroller was left up against the front wheel of the car. A baby bottle was flung into the street. Another stroller crushed. An infant seat was torn loose and hurled all the way across the intersection.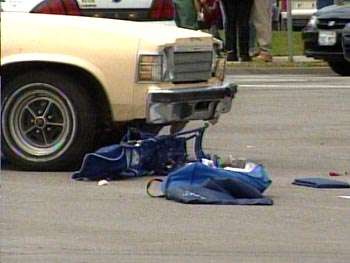 Ry Kros, Witness: "I heard a smack and then I saw the lady was on the hood of the car."
Witnesses could hardly believe their eyes.
Ryan Christensen, Witness: "But I just saw the pedestrians walking across and just get hit. And everything just went flying. That's what stuck in my mind."
The driver of the car was obviously emotional after the accident. A friend told us he was "devastated". Police took him into custody at first for questioning this afternoon, then released him pending the possible filing of charges later.
Scott Freitag, S.L.C. Fire Dept.: "Several witnesses saw the accident and they've told us they just saw the car just blow right through the light, didn't even slow down."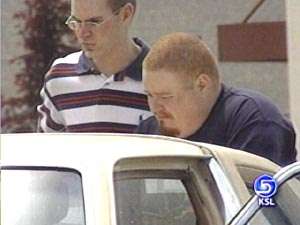 Authorities have identified the parents as Julio and Alejandra Barrientos. Their children are believed to be two years old, and a few months old.
Elsa Ibarra lives with the Barrientos family. She says the parents left in the morning with their children to get their car fixed.
Elsa Ibarra: "They were taking care of problems associated with the accident last week."
In that accident, she says Julio Barrientos was hit by another vehicle after its driver ran a red light. Barrientos usually works day jobs, but had been recovering after the last accident. Now he's in the hospital again and so is his family.
Scott Freitag, S.L.C. Fire Dept.: "Being in the car seat in the stroller probably helped protect the life of that baby."
The fact that youngsters were involved made it especially troubling to witnesses.
Ryan Christensen, Witness:" Yeah I had my toddler in the back seat with my wife, and so we panicked running over here. And I half-froze wondering what in the world I can do to help these people out. Just an awful scene, looked like an awful impact."
The father, Julio Barrientos is in good condition. His wife Alejandra is in serious condition. We have no updated information on the youngsters. They were considered critical when they were taken from the scene.
Police are certain the driver ran a red light; that's partly because one of their own officers witnessed the accident.
×
Most recent Utah stories