Estimated read time: Less than a minute
This archived news story is available only for your personal, non-commercial use. Information in the story may be outdated or superseded by additional information. Reading or replaying the story in its archived form does not constitute a republication of the story.
(KSL News) Utah's Public Enemy number one is behind bars this morning.
Police captured Daniel Joseph Chivers last night after he escaped police twice last month.
First he broke into a Salt Lake City home, briefly holding a person hostage, then he escaped police during a high speed chase.
Last night state and federal officers were able to corner Chivers after getting information he was in the area of 700 East and 3300 South.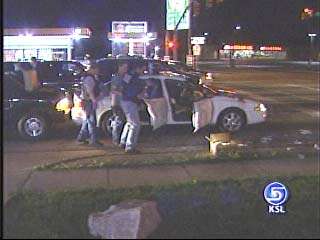 They tried to pull him over but once again he tried to run.
Michael Wingert/ U.S. Marshall Service: "He was able to bust the window out, apparently with his head-- the passenger window-- crawled over an occupant, another occupant in the car, was able to get out of the car by climbing through that window."
After a brief foot chase Chivers was caught. He and a woman were taken to the hospital.
Chivers now faces a number of charges. He was originally wanted on drug and forgery warrants.
×
Most recent Utah stories