Estimated read time: 2-3 minutes
This archived news story is available only for your personal, non-commercial use. Information in the story may be outdated or superseded by additional information. Reading or replaying the story in its archived form does not constitute a republication of the story.
Jed Boal ReportingA popular Utah family has moved back to downtown Salt Lake City after a long absence. A family of Peregrine Falcons is nesting on the Joseph Smith Memorial Building for the first time in eight years.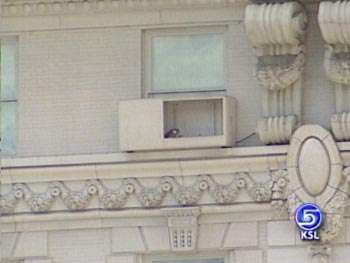 If the family of falcons seems a little frantic, they are. The parents are busy raising their young --two chicks is the best guess from the Division of Wildlife Resources.
A prolific pair of falcons nested on the building, formerly the Hotel Utah, in the 80's and 90's. They used to draw quite a crowd as they hunted food for the chicks and later gave them flight lessons.
Bob Walters, the Watchable Wildlife Coordinator for the DWR followed the falcons in those years; he's thrilled to see a new pair of falcons.
Bob Walters, Division of Wildlife Resources: "It was bound to happen, and the more I think about it, it comes down to the fact that there's no predicting when this is going to work."
This in not a pair of Peregrines that has flown here before. Exactly why they chose the spot is a mystery of the wild.
Bob Walters: "If you had to guess, maybe a pair that was favorably disposed to the place. And now we're down the road with at least two young."
It's a great chance to catch a glimpse of wildlife in the downtown area, but it takes a lot of patience. We waited nearly an hour before we even spotted the birds.
Bob Walters: "Schedule several hours to come downtown and watch the birds. You'll make a memory you'll never erase."
In the coming weeks the parents will do a lot of hunting and returning to the nesting box with food. In a couple of weeks flight school begins and there are few soft surfaces in the area.
×
Most recent Utah stories