Estimated read time: 2-3 minutes
This archived news story is available only for your personal, non-commercial use. Information in the story may be outdated or superseded by additional information. Reading or replaying the story in its archived form does not constitute a republication of the story.
Kimberly Houk ReportingWe've had a record amount of rainfall in the Salt Lake County area in the past 24 hours. It's the most we've ever had in this short amount of time in the month of June.
It's good because the way it rained -- very fast and hard at times, and then it slowed down -- gave the soil in the ground time to soak it up.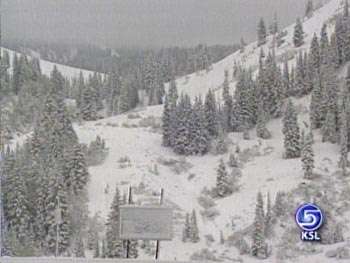 It may be June, but overnight it felt and looked more like December. While it rained in the valley, it snowed in the mountains.
Today up Little Cottonwood Canyon, you can see big, thick chunks of snow clinging to tree branches. And if the temperatures stay cool for the next week, there's a good chance this rain will be a good thing for saving much needed water.
Stephanie Duer, Water Conservation Coordinator: "What I'm seeing here, this is today, if you look here closely you can see a little tiny shelf. That means our water usage dropped down to here today, which is good. So we've had a lot of people shutting off."
But while some people are conserving water, others are not. The sprinklers were in full force at the Utah State Fairgrounds.
Experts are asking people to switch their sprinklers off their automatic timer so they can control when they go off.
Stephanie Duer: "The use of automatic timers. People see them as a real convenience because they don't have to think about when their water comes on. But the problem is they don't think about when their water comes on. So, they start watering by calendar versus what's really needed for the lawn."
Duer says you should never water more than twice a week, even during the hottest months of the year. And only water in cycles, meaning water your lawn in sections rotating every five minutes and hit each section at least twice. This gives the soil a chance to soak up the water.
Stephanie Duer: "Over-watered lawns have an increase in fungi and diseases that damage lawns."
Here's another simple test you can do to see if your lawn needs water: take a screwdriver that is six to eight inches long and stick it in the ground. If it goes in easily, like it would today, then you don't need to water.
×
Most recent Utah stories