Estimated read time: 2-3 minutes
This archived news story is available only for your personal, non-commercial use. Information in the story may be outdated or superseded by additional information. Reading or replaying the story in its archived form does not constitute a republication of the story.
Tonya Papanikolas ReportingSighs of relief and gratitude from some business owners in West Jordan. A wall of fire nearly engulfed the strip mall but in the end all stores were left intact.
That fire started at Stock Building Supply, which keeps wood in a storage shed behind the strip mall. Early this morning, the shed and the wood all went up in flames.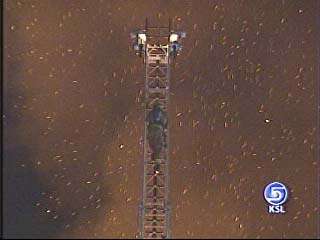 In West Jordan this morning flames shot upward, turning a normally dark sky bright orange.
Asst. Chief Brad Wardle, West Jordan Fire Department: "As our engines arrived, they immediately started calling for more resources, realizing this was a big fire."
To make matters worse, equipment like forklifts caught fire and started exploding. Fire crews lifted ladders up to 100 feet in the air and firefighters sprayed the flames from the top of the ladders while embers flew all around them. It took about 50 firefighters from different agencies to get the blaze under control.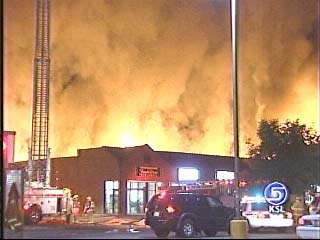 Asst. Chief Brad Wardle: "Our number one concern was containing it to the area and making sure that we did not get any further damage to the rest of the strip mall, which was a real possibility at the beginning of this fire."
Nicholle Deniro, The Mattress Department: "It's a close call. I mean, it's 30 feet away from where it was. Any closer, we could have been gone."
The sales store manager at The Mattress Department had nothing but praise for firefighters. She says they saved her family's business, but unfortunately, the smoke still got through.
Nicholle Deniro: "The sofas and especially the floor model mattresses are all smelling pretty horrible. A campfire is the best way I can describe it."
The owners placed fans throughout the store to help the smell, but they're not sure if it will work long-term. Many shops shut down and posted "closed" signs in the window. One new business owner planned to open a self-service dog wash this week. So will the fire set her back?
Deeaan Devey, Opening Dog-washing Business: "Hopefully not. We don't know yet. We don't know if we lost any of our water heaters. Hopefully we open on Wednesday. If not, we'll be open on Saturday."
×
Most recent Utah stories