Estimated read time: 2-3 minutes
This archived news story is available only for your personal, non-commercial use. Information in the story may be outdated or superseded by additional information. Reading or replaying the story in its archived form does not constitute a republication of the story.
Shelley Osterloh ReportingMore than 3,000 high school students from around the world are in Salt Lake City this week to compete in a national speech tournament.
It's called a national tournament, but there are about 30 students from other countries. They say the most common fear people share is speaking in public. These teens have faced that fear and are honing their skills at verbal communication.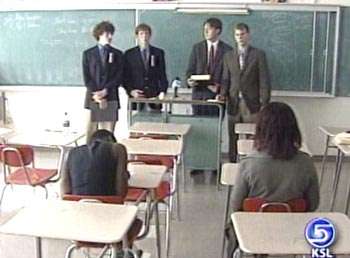 They gathered at 'This is the Place State Park' for an informal welcome and activities. But with about $100,000 in scholarships and prizes at stake, plus important credentials for college resumes, the 2004 National Speech Tournament is serious business.
Nassemah Mohamed, Zimbabwe: "I feel like I am representing my country, and it would be a great honor for me to do well for them. But now that just by getting here, I am a winner already, and I've learned so much."
Just to get here students have worked, studied, competed and learned.
Gao Wang, China: "Through debate we are not trying to make argument, enemies. But we are trying to reach an agreement. Through debate, that's communication, I hope that debate and speech will be popular in China someday."
They compete in several different kinds of debate, extemporaneous speaking, drama and interpretation. But the focus is always to develop their thinking and communication skills.
Bianca Anderson, Texas: "I gain friendships. I gain just being able to talk to anyone.. I'm not shy about that. And I also gain life lessons."
Mike Hansen, New York: "More important than any piece of paper any diploma, anything, you can get in college or school, is your skill to speak well and communicate yourself well"
Carla Christle, Texas: "My message is you can triumph over all things no matter what color , no matter how you look, gender or anything like that."
And learning to communicate well may be the first step to for these students in overcoming life's many challenges.
There is competition at East, Highland, Judge Memorial, Rowland Hall and McGillis Schools through Friday. If you would like to help out with the tournament and listen to some of these outstanding students, organizers still need citizen judges for some events. You can call 801-673-7356 to volunteer.
×
Most recent Utah stories