Estimated read time: 2-3 minutes
This archived news story is available only for your personal, non-commercial use. Information in the story may be outdated or superseded by additional information. Reading or replaying the story in its archived form does not constitute a republication of the story.
(KSL News) -- An apartment complex in Murray nearly goes up in flames after a driver rams into it.
The driver is in critical condition this morning. But she could have died, if not for some brave neighbors.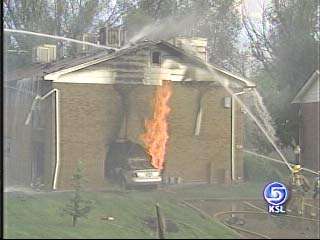 Jeremy Westerman, Rescued Driver: "It all happened so fast i really wasn't thinking about anything."
In a blink of an eye neighbors react.
A car crashes near the gas meters of an apartment building near 4700 S. 700 East in Murray, and catches fire.
Jeremy Westerman, Rescued Driver: "I was swimming in a pool about 50 yards away and I felt the tremor in the water when it hit the building and I came running up."
When Jeremy Westerman reached the car, another man was already there, desperately trying to free the female driver.
Josh, Rescued Driver: "I was in there trying to convince her to get out of the car, trying to get her to help me and the gas that was coming out of the pipes exploded."
Besides some singed hair and burns on his back and arm, he is okay.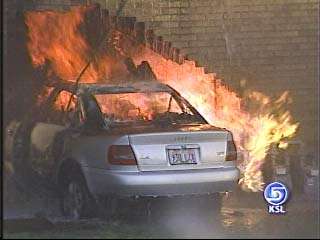 With the help of three men, the woman was pulled to safety. She was flown by helicopter to the hospital.
For more than three hours, the fire raged. A big reason, crews had to wait for the gas company to shut off the gas line.
Dep. Fire Marshall Jesse Valenzuela, Murray Fire Dept. : "The fire would spread into the apartment and then up the the second floor and take out the entire complex."
After a lot of digging, the gas company found the line and shut if off. By early this morning, the fire was out. But nearly 50-percent of the complex is destroyed.
Fire officials say it's a miracle no one was killed. Everyone who lives there, was outside at the time.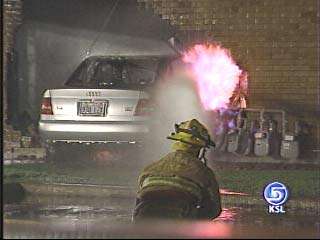 As for those good Samaritans: They refuse to be called heros.
Josh, Rescued Driver: "Anyone would have done it. It's not a big deal."
Four families were displaced for the night, and are staying with families or in hotels.
The driver of the car has been identified as 21 year old Jessica Cranski of Salt Lake city.
She has been updated to serious condition this afternoon, and will probably face unsafe driving charges as the result of the accident.
×
Most recent Utah stories