Estimated read time: 2-3 minutes
This archived news story is available only for your personal, non-commercial use. Information in the story may be outdated or superseded by additional information. Reading or replaying the story in its archived form does not constitute a republication of the story.
Kimberly Houk ReportingEnvironmentalists have suffered a major defeat in their quest to keep off-road vehicles out of potential wilderness. Off-road users and federal land administrators are applauding the Supreme Court decision.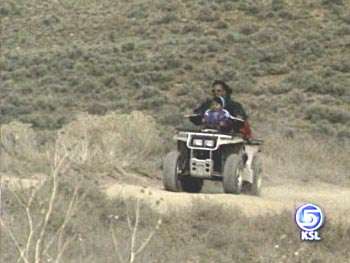 The Southern Utah Wilderness Alliance asked the court to ban off-road vehicle use in wilderness study areas. But the Supreme Court essentially ruled that public land policy is up to land managers, not the courts. Allowing lawsuits to settle disagreements would increase the role of courts in the management of federal agencies, something the justices don't want to see happen.
Don Banks, Bureau of Land Management: "Had this lawsuit prevailed, agencies like the BLM would have been susceptible to a whole other level of lawsuits dealing with the minutiae of management. And the problem is things would just grind to a halt given the number of lawsuits we would anticipate in the future."
But environmentalists say such lawsuits are necessary to force the BLM to do its job. What they would like to see happen is more protection of wilderness study areas, pieces of land they say are being destroyed by off road vehicles.
Heidi McIntosh, Southern Utah Wilderness Alliance: "This decision is going to affect citizen's groups and their ability to get an agency to fulfill some responsibilities that they should have been fulfilling for years."
And even though McIntosh says she's disappointed by the court's ruling, she says some good has come from the lawsuit. For the first time, McIntosh says the BLM has been forced to take a look at what they have not been doing to manage off road vehicles. Now she says there are plans to create more routes for other wilderness study areas in the state.
Heidi McIntosh: "You have to understand, with this decision the court did not say that off road vehicle use is legal in a wilderness study area. It did not say that the BLM was doing their job. What they said was that we just didn't have any legal recourse to force the BLM to do anything about it."
SUWA says they still plan to present different route plans for other wilderness study areas in the state to the BLM in hopes that they will be enforced. And the BLM says they will use more signage, patrols, and volunteers to keep people on the designated trails.
×
Most recent Utah stories