Estimated read time: 2-3 minutes
This archived news story is available only for your personal, non-commercial use. Information in the story may be outdated or superseded by additional information. Reading or replaying the story in its archived form does not constitute a republication of the story.
MOUNTAIN HOME, Idaho (AP) -- Ballistic tests have matched the bullets that killed an Elmore County teenager last week with those from the gun used by an ex-convict to wound two women in Utah before killing himself, Elmore County Sheriff Rick Layher said Wednesday.
"We're sure it's him," Layher said.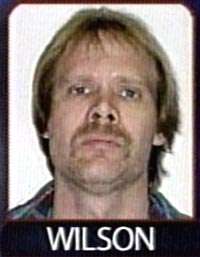 The sheriff speculated that Richard Wilson, 39, a Washington state parolee, just pulled off the interstate at Mountain Home en route from Washington to western Utah because "he probably needed money and was going to find someplace to burglarize."
The result was the murder of Teresa Garcia on June 8 while she rested at the home of her aunt and uncle, where she had been living for the past two years. Garcia, 17, was shot once in the face and three times in the back shortly after noon. She managed to get outside the house before she lost consciousness and bled to death.
Investigators found no clear evidence of burglary at the house.
"It looks like it is a random thing that could have happened in any community," Layher said. "We're never going to really know."
Wilson was paroled last February and returned to his home in Walla Walla, Wash. He was convicted of rape at knifepoint in 1995.
What police believe was his crime spree began on May 17 when he burglarized a residence, pawned the goods and took off. He was suspected in the May 24 disappearance of Brigham Young University student Brooke Wilbergerm in Corvallis, Ore., before the murder in Mountain Home and the gunfire the following day in Grantsville, Utah, that ended with his suicide near the Nevada border.
Layher said investigators still plan to process all evidence retrieved from the Mountain Home residence and work with authorities throughout the Northwest to reconstruct Wilson's movements over the past month.
"That may be the only way we're going to understand what happened," he said.
The first western Utah shooting occurred at a Grantsville laundry. Kimberli Lingard, 17, a high school senior who worked at the laundry, was found by patrons June 9. She had been shot in the head and chest. Wilson got less than $50 from the till.
She underwent brain surgery, and was listed in serious condition Wednesday at University Hospital in Salt Lake City.
The second shooting occurred about two hours later at a gas station/restaurant in Delle, 70 miles east of the Nevada line. A clerk, 59-year-old Dee Jensen, was shot in the neck, but she still was able to call 911 and give a description of her assailant and his car.
She was released from LDS Hospital in Salt Lake City on June 11.
(Copyright 2004 by The Associated Press. All Rights Reserved.)
×
Most recent Utah stories