Estimated read time: Less than a minute
This archived news story is available only for your personal, non-commercial use. Information in the story may be outdated or superseded by additional information. Reading or replaying the story in its archived form does not constitute a republication of the story.
Sammy Linebaugh ReportingUtahns are forever part of the Olympic family as a winter games host city. And today Utahns got to be part of the Summer games' celebration.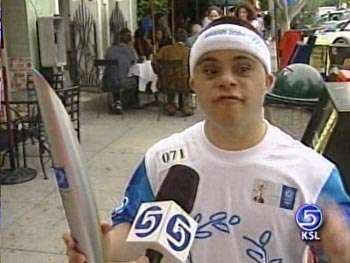 Sylvester Stalone, the actor and activist, got things started as the first to carry the 2004 Olympic flame on US soil. Block by block the torch was passed on and Utah's Brett Banford got his turn. 21-year old Brett was recognized for his active role as an ambassador for the Special Olympics, he is also a Tae-Kwon-Do blackbelt.
Brett says the crowd carried him today.
Brett Banford: "They just said, 'Get up, keep moving, go, don't stop.' I said okay. Then when it got to the end, I went full blast, full throttle."
Osmond Crosby, Olympic Torchbearer from Park City: "I read in this morning's newspaper that Pele cried in Brazil three days ago. So I'm allowed too. It's amazing, absolutely amazing."
This evening the torch will enter Dodger's Stadium. We're told Tom Cruise will have that honor.
×
Most recent Utah stories