Estimated read time: 2-3 minutes
This archived news story is available only for your personal, non-commercial use. Information in the story may be outdated or superseded by additional information. Reading or replaying the story in its archived form does not constitute a republication of the story.
John Hollenhorst ReportingInvestigators say arsonists are to blame for this week's spectacular lumber yard fire, but which arsonists? They can't even tell for sure if a mysterious FAX claiming responsibility is genuine.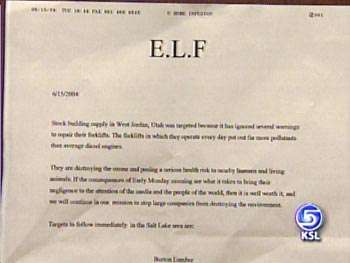 This faxed document not only claims credit for starting the fire, it cites an environmental issue as the motive, and warns that four more businesses will be targeted. But the question is whether it's a complete hoax or only a partial hoax.
There's no doubt this big blaze that started after midnight Sunday night was arson. Investigators concluded that Stock Building Supply was deliberately set on fire because they found multiple points of origin.
There was also spray-painted graffiti reading E.L.F., an acronym for the Earth Liberation Front. The FAX to KSL Radio, also headlined E.L.F., claims a bizarre environmental motive -- pollution from forklifts. The FAX says the company "ignored several warnings to repair their forklifts".
Environmental regulators and the company say they're unaware of any complaints or regulatory action involving any forklifts at any company. The FBI says the FAX contains lots of information, but the question is whether or not it's bogus.
Bob Wright, F.B.I.: "Every aspect of that fax is being reviewed -- the criminology, the words, the format, the businesses that were identified. Every aspect of that we're looking at to determine if it's a red herring, a smokescreen or a disgruntled employee."
The FAX's header almost certainly gives false information. The originating phone number traces to a tax services company and not a FAX machine. The sender is supposedly 'U Home Infusion'.
With a standard fax machine like this it's a pretty easy matter to disguise the origin of the document you're sending. With a few keystrokes we programmed our machine to send a fake fax, which appears to be sent by a Colin Powell, sending from a White House phone number.
But even fake originating information doesn't mean the FAX is a complete fraud. That's why the FBI has warned four other business mentioned in the FAX.
Bob Wright: "We've also contacted the watch commanders of the police and fire departments to alert them of the fact that these businesses have been targeted."
The investigation involves numerous state, federal and local agencies.
×
Most recent Utah stories