Estimated read time: Less than a minute
This archived news story is available only for your personal, non-commercial use. Information in the story may be outdated or superseded by additional information. Reading or replaying the story in its archived form does not constitute a republication of the story.
Nadine Wimmer Reporting A game you might have played in the pool as a kid is causing concern. Many of us don't realize why "hold your breath" contests are so dangerous.
There's an age old pool game that has turned deadly for two children in recent weeks, contests to see who can hold their breath the longest.
It seems harmless, but when kids take deep breaths before plunging underwater, doctors say they're hyperventilating. The carbon dioxide that normally tells us to breath has been flushed out of their system.
Dr. Mark Koepke, LDS Hospital: "So you've eliminated your body's normal mechanism to tell you you need to take a deep breath. There's no leeway. As soon as you're body is out of oxygen, it shuts down."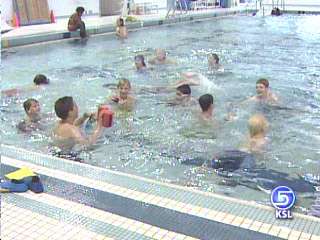 So kids never give the apparent distress signs of flailing or trying to surface. It's one more reason to take caution.
Dr. Mark Koepke: "It's absolutely imperative, if you have small kids around any body of water, I don't care if it's a pool you bought at a grocery store, you have to have your eye on them 100-percent of the time."
×
Most recent Utah stories