Estimated read time: 2-3 minutes
This archived news story is available only for your personal, non-commercial use. Information in the story may be outdated or superseded by additional information. Reading or replaying the story in its archived form does not constitute a republication of the story.
Kimberly Houk ReportingMore and more teenagers are suffering with painful headaches, and doctors say how they treat that pain could be causing MORE pain. It's called a "rebound" headache and very few people understand how to avoid them.
Shaun Morrow hasn't lived a day in the past 18 months without his head hurting. His case is extreme, but doctors gave him some sound advice that helps lessen his pain; they told him to stay away from over the counter pain relievers.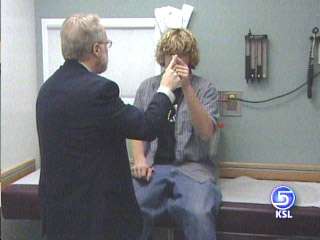 Shaun Morrow: "I was trying stuff to get rid of the headache. I was trying a lot of stuff."
Doctors say taking more than two pills a week of any kind of non-prescription painkiller can cause a rebound headache. The more pills people pop, the more likely they'll notice new headaches surfacing between doses. It's a painful cycle.
Jim Bale, M.D., Primary Children's Medical Center: "The types of rebound headaches that happen are kind of like having a concussion happen over and over again, and continue to really affect the child's life."
Utah has the youngest population in the nation, and doctors here say they've seen a huge increase in the number of teens who suffer with migraines and rebound headaches. They also say they've seen an increase in the severity of the pain.
Kathleen Digre, M.D., U of U Dept. of Neurology: "Our world is really hard to live in for an adolescent. We've got way too much noise and light, and kids don't sleep, they don't eat right, and those are things that can make people have more headaches."
Doctor Digre has been treating headache patients for 20 years. She says there are things parents can do to lessen their teenagers' pain – like, don't let them over-medicate. Instead, she says it's better they tough it out and break the cycle. If their pain goes away there's a good chance they'll have a rebound headache.
Digree also says it's important that kids stay on regular sleep and eating schedules and limit their intake of caffeine.
Kathleen Digre, M.D.: "The good news is, if you can just stop the offending agent, fifty percent of the time, you can get better."
Some headaches do require medical attention, but too much over-the-counter medicine can lead to long-term side-effects like liver and kidney damage.
×
Most recent Utah stories