Estimated read time: 2-3 minutes
This archived news story is available only for your personal, non-commercial use. Information in the story may be outdated or superseded by additional information. Reading or replaying the story in its archived form does not constitute a republication of the story.
Sam Penrod ReportingTbe pilot of a single-engine air tanker battling a wildfire in southern Utah was killed Thursday evening when the plane crashed as it was flying over the fire.
The pilot is identified as 58-year-old Wayne Turner. U-S Bureau of Land Management officials say he was a contract pilot for New Frontier Aviation, and had flown for more than 40-years and had logged more than 21-thousand hours flying.
The plane went down just in the Dammeron valley about 20 miles north of St. George at about six o clock. So far it is not known what caused the plane to crash. Tragically the pilot was killed, leaving the firefighting crews there in shock.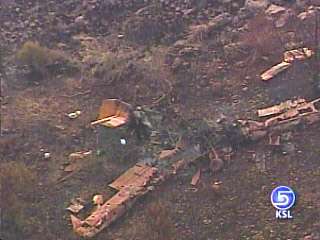 Moments after the single engine air tanker went down in the foothills of Dammeron Valley dark smoke stood out in comparison to the white smoke from the burning brush. The Bickel family was watching the planes fight the fire from their backyard when tragedy struck.
Jeff Bickel, Witness: "It started coming back west, looks like it was nosed dive, huge explosion."
Nearby planes and helicopters made drops on the crash scene trying to extinguish the burning wreckage as rescue teams on the ground made it to the scene.
David Eaker, Fire Information Officer: "The plane went down, there was a fatality, the pilot was killed in the crash."
Much of the wreckage was scattered over a wide area, which is now marked with tape until federal crash investigators arrive.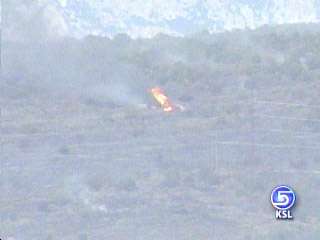 Because of the crash, all other firefighting aircraft assigned on this fire are grounded during the investigation of what caused the plane to go down.
The pilot who was killed has not been identified. He was a contractor for the federal government.
Federal investigators were scheduled to arrive Friday to investigate the crash.
Bureau of Land Management spokesman David Boyd said the major, south portion of the Dammeron Complex fire had burned about 3,300 acres and had not spread much since Thursday morning. It was expected to be contained by Saturday.
Another fire, burning near the Brookside subdivision by Baker Dam Reservoir, forced the evacuation of several homes last night. No homes were lost and residents have returned.
The other fire, burning just south of the Shivwits Indian Reservation, is still burning but has been contained and hasn't damaged any property.
(The Associated Press contributed to this story)
×
Most recent Utah stories