Estimated read time: 5-6 minutes
This archived news story is available only for your personal, non-commercial use. Information in the story may be outdated or superseded by additional information. Reading or replaying the story in its archived form does not constitute a republication of the story.
Tom Kirkland and Kathy Aiken ReportingBobbye Sloan, the coach's wife of 41 years, passed away in Illinois this morning.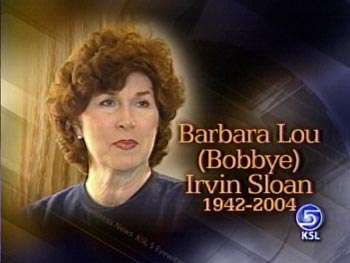 Six months ago Bobbye announced she had a malignant tumor in her pancreas. It's news we expected to hear sometime this summer, but that hasn't made the finality of it any easier for us to accept.
Bobby Sloan was almost as big a part of the fabric of Utah life as the team her husband coached, but this morning her six month battle with cancer ended; Bobbye died at a hospital in her hometown of Evansville, Illinois.
Larry Miller: "She was one of those people that fill up a lot more space with their personality than she does with her body. So when she was anywhere, she had an aura or an air about her that was a very positive thing. It was a very uplifting thing to people and she's going to be missed by the Jazz organization, it's individuals. But by Jerry, I don't know how he feels that hole inside."
Phil Johnson, Jazz Assistant Coach: "It's very difficult for Jerry and the family because, you know, I think very often it's harder for them than it is the person that's with the disease. But he seems to be holding up and hopefully he'll be okay."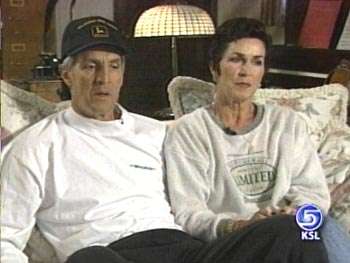 The Jazz released a statement saying in part, "Over the past several months, Bobbye has fought a brave and courageous battle with liver and pancreatic cancer. While she was fully aware of her condition, she was never willing to give up the fight. Her competitive spirit came from a lifetime of being involved with sports and being on the sideline with Jerry Sloan. Larry and Gail Miller and the entire Jazz organization express their deepest sympathy to Jerry and his family. Our thoughts and prayers are with them."
If you ever had the good fortune of meeting Bobbye Sloan, you know she's a woman you don't forget. Bobbye was genuinely kind, a woman who loved antiques, loved Jazz basketball, but most of all loved her family.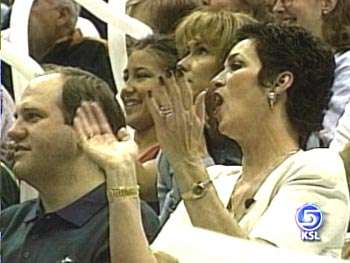 For many years Jerry Sloan has lived in the NBA spotlight while Bobbye was content in the shadows.
Bobbye Sloan: "I was 21-years old when Jerry first started playing so I don't have anything to compare to; this is just the life we know."
A life that brought Bobbye to Utah in 1984, a life she shared helping numerous charities throughout the state -- including 1992 when she helped orphaned wildlife.
Bobbye Sloan: "I think we have a responsibility as human beings not only to take care of each other but to take care of our wildlife."
During the Gulf War in 1991 Bobbye took care of the wives of Utah Army reservists, handing out care packages. And since 1963 she's been taking care of Jerry and their three children.
But in June of 1997 Bobbye had to take care of herself. During the NBA finals against Chicago, Bobbye discovered a lump in her breast, a lump diagnosed as cancer.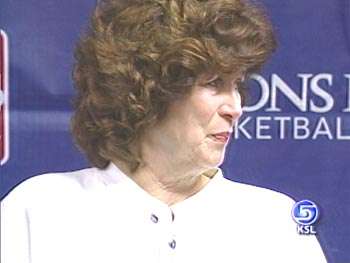 Bobbye Sloan, May 8, 1998: "Honestly it was terrifying, simply because all of the negative things we women have heard about breast cancer. He told me that in five years he expected to write cured on my chart, and that's the attitude I'm taking with this. But still at this point I enjoy every day and it's a wonderful time in my life."
For more than seven years, Bobbye and Jerry enjoyed life together, both helping each other through life's struggles. Their marriage lasted 41 years.
Jerry Sloan, May 5, 1999: "We are closer and happier than we've ever been before in our lives, and hopefully that's somewhat of a reward for being able to fight through what she's fought through."
That fight brought Bobbye out of the shadows, becoming a spokeswoman for breast cancer. She promoted the "Race for the Cure", hoping her story would help save lives.
Bobbye Sloan: "Most people didn't even know I existed until this happened, because I've been very much in the background and enjoyed it. And I continued to do that until my son Brian said, 'You know Mom, you really have an opportunity to do something good for other people, and hopefully their outcome will be as good as yours has been.'"
Just a year ago, Bobbye's outlook seemed so promising, fulfilling a lifelong dream to play the harp. She received the most cherished Christmas gift from Jerry in 2002.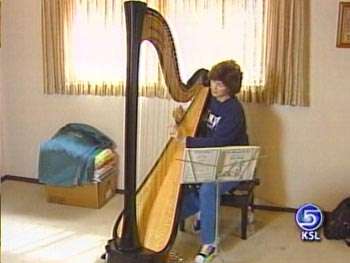 Bobbye Sloan: "I opened the door and there stood the people from Summerhays Music with this [a harp]. I nearly fell down the stairs. I couldn't believe it. I was in tears and I said, 'You know this is the most beautiful thing you have ever done for me.' And he's done some pretty cool things."
But Bobbye's fight resurfaced. Last fall she was diagnosed with pancreatic cancer.
Bobbye Sloan: "I'm not saying that I'm going to come out of this alive and I'm not saying this is going to be fun, because it definitely isn't. But I'm going to do whatever I have to do to stay here with this wonderful man as long as I can."
Jerry Sloan: "I appreciate the support, but it's been so damn difficult for us. We just live day to day that's about it."
Today Bobbye's final fight came to an end -- a fight she fought courageously, a fight we should all remember.
Jerry Sloan: "We can all come back after a win. But after a loss, how can you fight back? And that's what she was able to do, that's what I admire in her."
Bobbye Sloan was 61-years old. She's survived by Jerry, three children and eight grandchildren. Funeral services are still pending.
As Larry Miller said today, Bobbye's positive outlook made her a great role model for everyone.
×
Most recent Utah stories