Estimated read time: 1-2 minutes
This archived news story is available only for your personal, non-commercial use. Information in the story may be outdated or superseded by additional information. Reading or replaying the story in its archived form does not constitute a republication of the story.
Debbie Dujanovic ReportingAttempted murder, robbery, burglary -- what does it take to keep the real bad guys off Salt Lake streets? Apparently three trips to prison and 15-criminal court cases isn't enough for one fugitive.
He's 26-year old, and in his lifetime, authorities say this one man crime wave, has seen the inside of a courtroom at least 15 different times, on dozens of different charges. Tonight, Utah's Publc Enemy Number One is on the run.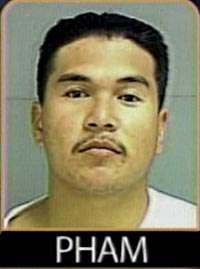 June 8th, a medical clinic on Redwood Road, it was the last time police saw fugitive Tuan Anh Pham. They say he'd just crashed in a stolen vehicle, and ran into the clinic to get away. He did, eluding even a Police SWAT team. That's why cops consider Pham public enemy number one.
Detectives say this gang member's spent his adult life running from police, doing time in prison, and committing serious crimes. Arrested for attempted homicide, robbery, burglary, vehicle theft, drugs, and the list goes on.
The first time he was paroled from prison was March of 2000. Records show he returned to a life of crime just five weeks later, went on the run, and committed a serious of crimes across three counties, leaving a trail long enough for prosecutors to build eight different cases against him.
After that crime spree parole agents tracked Pham down and sent him back to prison at the end of 2000. He got out again seven months ago, and police say he's been committing crimes ever since.
Now he's on the run with police on his trail. If they get him back, the prison parole board has the authority to keep him in until 2013.
×
Most recent Utah stories